What Is Formal Probation? Difference From Summary Probation?
Formal probation is a way for one to avoid a jail term or prison term and remain living at home, continue working and hopefully, minimize the impact of a conviction. Judges and prosecutors like to emphasize that any form of probation is a privilege and not a right.
Brief Synopsis: Formal probation involves more active supervision of one on probation than on informal (or summary probation) and there is a monthly probation fee to pay the probation officer, pay for periodic drug testing (if applicable), pay for a GPS monitor (if applicable) and pay for periodic polygraph testing (if applicable).

The purpose of probation is to allow the person to become rehabilitated without being incarcerated. The judge makes the final decision whether a person is placed on probation, taking into account certain "sentencing factors" that are set forth under California Rules of Court, Rule 4.414. This rule lists out many factors in mitigation and in aggravation as to the offense and the person's personal and criminal history. Most often, the judge does not analyze each factor in a deliberate, rigorous manner, one factor after another, but he or she can.
Formal probation, often called "felony probation," is not imposed only in felony cases. In Ventura County, for example, a person convicted of misdemeanor DUI will be placed on formal probation. In Los Angeles, Orange and San Bernardino Counties, however, this is not done.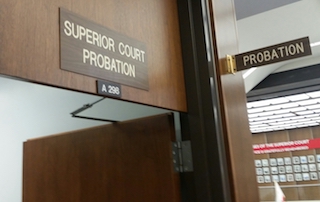 Probation Office
Formal probation typically lasts three to five years, depending upon the type of case and the severity of the conduct. The less serious the case, the more likely three years will be imposed.
Formal probation is distinguishable from informal, or summary probation, in several ways. First, formal probation involves an initial meeting with a probation officer, usually within 48 hours of a person being sentenced or being released from custody. The probation officer will explain the terms of probation, such as performing community service or Cal-Trans, undergoing drug counseling or drug testing, payment of restitution to a victim (if applicable), the waiver of the right to demand a warrant from a police officer seeking to conduct a search and the right to travel.
In summary probation, there is no meeting with a probation officer and no probation officer is assigned to supervise the person.
Under Penal Code § 1203.7(b), when there is formal probation, the probation officer "shall" keep information about the probationer, including the person's gender, age, "nativity," residence (including who else lives at the location), education, "habits of temperance" (i.e. if one drinks or smokes), marital status, employment and the parents' occupations. This information is open for inspection by the judge or the chief of police or other head of police on demand.
Second, formal probation involves periodic monitoring by the probation officer. This can be an in person meeting once a month, for example, a phone conversation or the person checking in at a kiosk, most commonly at a police station. In some cases, often in sex cases, a probationer may be required to wear a GPS monitoring device so that the whereabouts of the person are known at all times.
Torrance Courthouse
Third, formal probation involves the probation officer submitting a periodic report, known as a probation report, to the judge. This report describes the compliance of the probationer, his payment of probation fees, his reporting, his drug test results (if required) and his attitude on probation.
Fourth, as mentioned above, formal probation is an expense to the probationer. Summary, or informal probation, on the other hand, is free. Formal probation can cost as little as $150 per month to upwards of $600 per month, especially if there are weekly drug tests.
Fifth, formal probation can involve a probation officer coming to one's home to inspect the living conditions. This is most often done only when the probation officer suspects there is drug use or that the probationer is not living where he or she claims to live.
Not everyone convicted of a felony is eligible for formal probation. There are certain offenses, i.e. murder, rape, mayhem, attempted murder, etc., that have "Mandatory State Prison" (MSP) terms. In such cases, probation is not available. Furthermore, there are individuals that because of their criminal history or because of past violations of probation, that the probation department will characterize as "not a suitable candidate for probation." The judge will read such an evaluation and more than likely, for public safety, follow the suggestion of the probation department.
For more information about the issues in this article, click on the following articles:
Contact us.