Immigration: Is Amended Penal Code § 18.5 Retroactive?
In a Nutshell: The amended version of Penal Code § 18.5, changing the maximum time for a misdemeanor to "not more than 364 days" is not retroactive.

On January 1, 2015, the California legislature enacted California Penal Code § 18.5, which reduced the maximum jail sentences for misdemeanor convictions from "up to or not exceeding one year" to "a period not to exceed 364 days."
This was immediately recognized as quite significant in the immigration context because it potentially affected many pending removal proceedings over convictions that involving misdemeanor crimes involving moral turpitude (CIMT), i.e., shoplifting and identity theft, that carried a sentence of "up to one year" in county jail.

Could pending removal proceedings be cancelled?
Indeed, 8 U.S.C. § 1227(a)(2)(A)(1) states: :(a) Any alien (including an alien crewman) in and admitted to the United States shall, upon the order of the Attorney General, be removed if the alien is within one or more of the following classes of deportable aliens: . . . (2) Criminal offenses (A) General crimes (i) Crimes of moral turpitude . . . Any alien who – (1) is convicted of a crimes involving moral turpitude committed within five years (or ten years in the case of an alien provided lawful permanent resident status under section 1255(j) of this title) after the date of admission, and (II) is convicted of a crime for which a sentence of one year or longer may be imposed," is deportable.
Under 8 U.S.C. § 1229b(b)(1)(C), "[t]he Attorney General may cancel removal of . . . an alien who is inadmissible or deportable from the United States if the alien . . . has not been convicted of an offense under section 1182(a)(2), 1227(a)(2), or 1227(a)(3) of this title."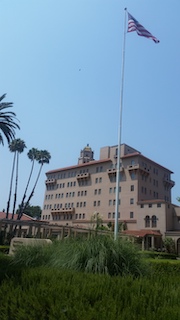 U.S. Ninth Circuit Court of Appeals Pasadena
However, section 237(a)(2)(A)(i) of the Immigration and Naturalization Act provides certain grounds for rendering an alien ineligible for cancellation of removal proceedings under 1229b(b)(1)(C).

Would 237(a)(2)(A)(i) apply to bar the cancellation of removal, otherwise seemingly cancellable by the amended Penal Code § 18.5?
These issues affected many, perhaps thousands of people. The recent Ninth Circuit Court of Appeals consolidated ruling in Eduardo Velasquez-Rios v. William P. Barr and Sanjay Joseph Desai v. William P. Barr (2020 DJDAR 11620) answered these questions with a resounding yes, unfortunately.
Mr. Velasquez-Rios is a native and citizen of Mexico who unlawfully entered the United States at an unknown time and place.

In 2002, he pled guilty to misdemeanor forgery under Penal Code § 475(a) and was sentenced to twelve days in Orange County jail and eight days of community service. At the time of the conviction, he was eligible for a maximum sentence of "not more than one year" under Penal Code § 473.
Sanjay Joseph Desai is a citizen of India who was admitted to the United States in 2000 as a non-immigrant visitor with authorization to stay for six months. After overstaying his visa, Desai was convicted of misdemeanor grand theft under Penal Code § 487, for which he was sentenced to 13 days in jail and 36 months of summary probation. At the time of his conviction, Desai was eligible for a potential sentence of one year of imprisonment (Penal Code §§ 487, 489(b)).
The Department of Homeland Security initiated deportation proceedings against Desai in 2011 and Velasquez-Rios in 2012. The proceeding stretched into 2019, which meant the changes to Penal Code § 18.5 came into effect while their deportation proceedings were still pending.
Both Desai and Velasquez-Rios applied for cancellation of removal under 8 U.S.C. § 1229b(b). Both immigration judges (IJ's) denied their cancellation requests and both Desai and Velasquez-Rios appealed to the Board of Immigration Appeals (BIA). Velasquez-Rios argued that his theft conviction, due to the amendment to § 18.5, no longer qualified as "an offense under § 1227(a)(2) because the maximum possible sentence for his conviction had been reduced to 364 days." Desai made a similar argument.
The BIA rejected that argument, noting that at the time of his conviction, the maximum sentence available was one year. The BIA made a similar ruling on Desai's appeal.
Velasquez-Rios and Desai then both appealed to the U.S. Ninth Circuit Court of Appeals, which affirmed the BIA decisions in both cases, stating that § 1229b(b)(1)(C) calls for a backward-looking inquiry. It requires that an alien "has not been" convicted if an applicable offense, including a CIMT under 1277(a)(2), but to decide this, the "only way to answer this backward-looking question is to consult the law that applied at the time of that conviction." United State v. Diaz (9th Cir., 2016) 838 F.3d 968 and McNeill v. United States (2011) 563 U.S. 816.
Otherwise, the Ninth Circuit pointed out, "national uniformity" of applying federal law would be frustrated and immigration judges and federal courts would have to apply the various statutes of each states in a "patchwork fashion" to determine the immigration consequences of a particular offense.
Therefore, the amendment to 18.5 of the Penal Code was not applicable retroactively for purposes of removability. We bring this article to the reader's attention because the issue in this case has wide effects and so it is good to know the law on how 18.5 is being applied.
The citation for the consolidated cases discussed above at the U. S. Ninth Circuit Court of Appeals is Eduardo Velasquez-Rios v. William P. Barr and Sanjay Joseph Desai v. William P. Barr (9th Cir. 2020) 979 F. 3d 690.
For more information about common immigration issues, please click on the following articles: