Murder? Doctor Prescribes High Dose of Controlled Substance
About This Article Briefly: Implied malice sufficient to support second-degree murder was found in case of a medical doctor who prescribed opioids to many obvious drug abusers, some of whom then died of overdoses, and engaged in other forms of criminal conduct from her Rowland Hights clinic.

In 2007, Hsiu Ying Lisa Tseng, a licensed physician practicing internal medicine and osteopathy, joined Advance Care AAA Medical Clinic in Rowland Heights. The general practice clinic was operated by her husband. When Tseng first joined the clinic, the patients came from the local Hispanic and Asian communities, the wait time for each patient was 15 to 30 minutes and 90 percent of the patients paid for treatment through insurance.
By the next year, the practice had changed so that most of Tseng's patients were now white males in their 20's and 30's who came from outside Los Angeles County seeking pain and anxiety management medications.

By 2010, the clinic had developed a reputation where patients could easily obtain prescriptions for controlled substances, including opioids, sedatives, muscle relaxants and drugs used to treat drug addiction. Moreover, fees had doubled and nearly all the patients paid in cash. The clinic's income changed from $600 per day in cash to $2,000 to $3,000 per day.

According to one visitor, the clinic "looked like a parole office," with "drug dealing." The wait time for Tseng's patients was up to six hours with 20-30 patients inside the waiting room or outside the clinic. Some patients appeared to be under the influence of drugs. One patient overdosed in the waiting room.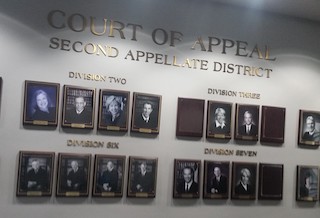 Court of Appeal Second Appellate District Los Angeles
Tseng would spend about 10 to 15 minutes with new patients and about five minutes with returning patients. She did not do drug testing or review California's Controlled Substance Utilization and Review and Evaluation System (CURES) database to determine whether patients had current or prior prescriptions for controlled substances from other doctors. She routinely wrote prescriptions for opioids such as fentanyl and oxycodone, sedatives such as benzodiazepine and muscle relaxants such as carisoprodol (sold under the brand name Soma), amphetamines, as well as controlled substances used to treat drug and opioid addiction.
Tseng sometimes allowed patients to pick up prescriptions for other patients who were not at the clinic.

Beginning in 2008, pharmacists began to refuse to fill prescriptions written by Tseng because the prescriptions raised "red flags;" the patient's profiles, conduct and combinations of substances and quantities indicated no legitimate medical purpose for writing the prescriptions. When Tseng learned of this, she instead directed patients to "mom and pop" pharmacies that appreciated the business.

The same year, law enforcement investigators, including investigators from the coroner's office, began calling Tseng to discuss the deaths of several of her patients and to advise her that patients had died of suspected drug overdoses.
In 2010, the DEA and California Department of Justice (DOJ) investigated Tseng for illegal distribution of drugs. DEA agents executed a search warrant at her office and seized computers and digital copies of her computer files.

In 2012, Tseng was arrested and charged with three counts of second-degree murder, 20 counts of unlawfully prescribing controlled substances to patients and one count of obtaining a controlled substance by fraud (Health and Safety Code § 11373(a).

At trial, the prosecution presented evidence from September, 2007 to December, 2009, showing nine of Tseng's patients, ranging in age from 21 to 34 years of age, died shortly after filling prescriptions that Tseng wrote them for controlled substances, including Xanax, Norco and Opana (an opioid).

A jury found Tseng guilty of three counts of second-degree murder, 19 counts of unlawfully prescribing controlled substances and one count of obtaining a controlled substance by fraud. The trial court judge, George Lomeli in the Central Criminal Building (CCW), also known as the Clara Shortridge Foltz Courthouse in downtown Los Angeles, sentenced her to 30 years to life in state prison.
Tseng filed a timely appeal, arguing that there was no finding she acted with implied malice. She argued that although she may have acted with negligence sufficient to show involuntary manslaughter, there was no finding that she acted with conscious disregard for her patients' lives.
The Second Appellate District Court of Appeal, in People v. Hsiu Ying Lisa Tseng (2018 DJDAR 11891) denied her appeal, stating that implied malice exists when an intentional act naturally dangerous to human life is committed "by a person who knows that his conduct endangers the life of another and acts with conscious disregard for life." People v. Lasko (2000) 23 Cal.4th 101, 107, quoting Penal Code § 188.3.
Implied malice may be proven by circumstantial evidence. People v. Superior Court (Costa) (2010) 183 Cal.App.4th 690, 697. "Even if the act that results in death is accidental, the circumstances surrounding the act may evidence implied malice." People v. Benitez (1992) 4 Cal.4th 91, 110.

The record here in this case "overwhelmingly" demonstrated that Tseng's treatment of patients was well below the standard of care in prescribing opioid medications.

The citation for the Fourth Appellate District Court ruling discussed above is People v. Hsui Ying Lisa Tseng (4th App. Dist., 2018) 30 Cal. App. 5th 117, 241 Cal. Rptr. 3d 194.

For more information about murder, please click on the following articles: