Multiple Criminal Cases? Can They Be Joined? Split Up?
We often have clients facing more than one case, often in the same courthouse. The client usually recognizes a double jeopardy issue, or at least asks if this is an issue. Sometimes, the cases are totally unrelated because they took place at different times, involve different offenses and involve different victims. Other times, the crimes in each case are the same and involve the same victims. Can such cases be consolidated? Is it smart to consolidate the cases? It is improper for the prosecutor to divide the cases up?
Without All the Details, What Happened? Do You Face Multiple Criminal Cases at the Same Time? Can the Cases Be Joined? Is It Permissible for a Prosecutor to Split up the Cases?

Sometimes, it is mandatory to join or consolidate the cases. This is what attorneys will refer to as a
Kellett
issue.
Kellett v Superior Court
(1966) 63 Cal.2d 822. When the prosecution is or should be aware of more than one offense in which the same act or course of conduct plays a significant part, all such offenses must be prosecuted in a single proceeding unless joinder is prohibited or severance is permitted for good cause.
Kellett
, at 828.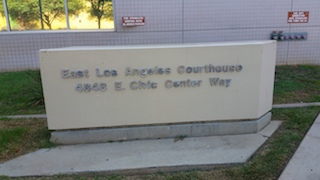 East LA Courthouse
What if the prosecution charges only some of the offenses that should have been joined under this rule? This is not uncommon. When this happens, a judgment in that case bars prosecution of the offenses that could have been charged but were not. Kellett v. Superior Court, supra (conviction of brandishing weapon bars prosecution of ex-felon in possession of concealable weapon). This is commonly called the Kellett rule.
The federal rule is similar: Successive prosecutions for the same criminal act or transaction under two different criminal statutes are forbidden unless each statute "contains an element not contained in the other."
U.S. v Dixon
(1993) 509 US 688, 696, 113 S Ct 2849 (overruling
Grady v Corbin
(1990) 495 US 508, 110 S Ct 2084). This is known as the "same elements" or
Blockburger
test (after
Blockburger v U.S.
(1932) 284 US 299, 304, 52 S Ct 180).
The rule against multiple prosecutions is based on Penal Code §§ 654 and 954. It is meant to prevent harassment of defendants, avoid repetition of evidence, and save the state and defendants time and money.
Kellett
,
supra
. In deciding a motion to dismiss based on
Kellett
error, the court should look at the totality of the facts, examined in light of the legislative goals of §§ 654 and 954.
People v Flint
(1975) 51 Cal.App.3d 333, 336. In
People v. Flint
, for example, defendant's guilty plea to drunk driving barred prosecution for grand theft of the car defendant was driving while allegedly drunk.
There are numerous other examples which are good to know about. In
Sanders v Superior Court
(1999) 76 Cal.App.4th 609, the prosecutor could not amend the information (the complaint after the preliminary hearing) to add new charges based on the same evidence used in earlier prosecution. In
People v Wasley
(1970) 11 Cal.App.3d 121, the defendant was acquitted of robbery alleging prior felony convictions. He could not later be prosecuted for felon with firearm on the basis of gun used in robbery.
Separate cases are allowed under other circumstances, although a
Kellett
issue was brought up by the defense. For example, in
People v Carpenter
(1999) 21 Cal.4th 1016, a
Kellett
motion was denied to consolidate the cases when there were two murders of separate victims on separate days by the "Trailside Killer."
The California Supreme Court decided there was not a single act or course of conduct. In
People v Cuevas
(1996) 51 Cal.App.4th 620, the court of appeal found that prosecution of defendant for possession and sale of drugs on different dates could be done separately, even though such sales were part of same investigation. Cuevas' plea of guilty to possession on one date did not bar later prosecution for sales counts that occurred before possession case.
In the domestic violence context,
People v Breland
(1966) 243 Cal.App.2d 644 is instructive. First, Breland was prosecuted for battery only. He was later prosecuted for murder of the same victim. The appellate court said this was permissible because the victim died after defendant pleaded guilty to battery.
Kellett
also applies to juvenile offenses, where we often see multiple cases involving the same juvenile. In
In re R.L.
(2009) 170 Cal.App.4th 1339, the appellate court held that it was permissible for the prosecution to amend the petition to add counts after the minor has admitted one count and before disposition because successive prosecution is prohibited under § 654 only after conviction and sentence.
For more information about the issues in this case, click on the following articles:
Contact us.