Motion to Vacate Two Convictions, Two Cases, Airport Court
Our client, when age 21 in 1996, was cited for driving on a suspended license (Vehicle Code § 14601.1(a)). He threw away the ticket and the judge assigned to the case issued a bench warrant for our client's arrest, which was eventually executed in 2002 when police arrested our client and brought him to court.
On the occasion for the 2002 arrest, our client was separately arrested for unlawful use of a driver's license (Vehicle Code § 14610), arising out of his attempt to use his expired license to rent a car. This charge could have been brought under other provisions of the law, but § 14610 is how the prosecution chose to allege such conduct as violating California law.
So our client faced two arraignments on two cases, one from 1996 and one from 2002. Both cases were assigned to the Airport Courthouse, but they were assigned to different judges because the arresting agency differed in each case. One was the Los Angeles International Airport Police and another was the Santa Monica Police Department.
It took three days before our client was able to see a judge (he was arrested on a Saturday), so for each case, he already had three days of actual credit before his arraignment. The public defender in each case could see our client's primary interest was being released from custody, so each public defender negotiated plea bargains that gave our client credit for time served and otherwise placed our client on informal probation with an obligation to obtain a valid driver's license.
The topic of our client not being a U.S. citizen was never discussed and our client believed it was not relevant anyways to him at the time because he was a permanent resident. He therefore regarded the immigration warnings given by the judge in each case as purely prophylactic, issued in every case just in case the person was subject to deportation (which our client believed could not happen to a permanent resident – after all, his status was "permanent," as in unchangeable). Moreover, he heard both judges give the same warnings to everyone, even defendant who were obviously U.S. citizens.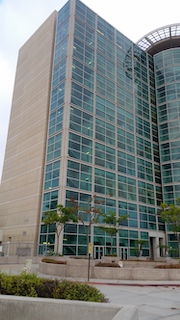 Airport Courthouse
Our client did not believe such convictions would ever affect his ability to remain in the United States. After all, both cases were minor misdemeanors and no one was injured. There was no victim at all. The offenses were more regulatory in nature than criminal.
Eighteen years later, however, our client was facing deportation because his permanent residency status expired.
Our client discussed his status with an immigration attorney, who recommended he "try to vacate every conviction."

The client then called Greg Hill & Associates and discussed his situation and his many convictions over the years, these two cases just being some of the convictions. Greg commented that he did not believe either conviction was considered a crime of moral turpitude, but the client said he wanted both convictions vacated, if possible.
Greg then asked the client about the circumstances surrounding his entry of his no contest pleas in each case. Greg asked the client if he discussed the immigration consequences with his public defender and whether the client understood that if his permanent residency status were lost, such convictions could lead to deportation. The client said he never realized this until 18 years later. The client added that he regarded the immigration warnings as inapplicable to him because he was "basically a U.S. citizen," "I was not going be deported anyways because I was a permanent resident." At the time, the client was 27 years old and not aware that he could ever lose his permanent residency status. His public defender in both cases never discussed alternative resolutions that might avoid the risk of deportation.
Greg then explained that Penal Code § 1473.7 permitted a defendant out of custody to seek to vacate a conviction due to a "prejudicial error" in the proceedings regarding defendant being properly informed of the immigration consequences of such a conviction. The lack of any discussion with his attorney in either case sufficed.

Moreover, our client said he felt intimidated by the public defenders, who each seemed annoyed by our client and were impatient with him. Both rushed him to accept the plea. Greg commented that this also qualified as a prejudicial error under a Fourth Appellate District recent case, People v. Eun Sung Jung (2021 DJDAR 414).
The client then retained Greg Hill & Associates to prepare, file and serve a Motion to Vacate a Conviction under Penal Code § 1473.7 in each case.
Greg and his office then prepared such a motion in each case, filed it and served it. The hearings on both motions were scheduled for the same day, with the same judge. The judge granted both motions, making our client quite happy.
For more information about vacating a conviction based on improper immigration advice, please click on the following articles: