Misdemeanor Criminal Threats Involving Gun, Long Beach Court
Our client, age 25, was driving her father to his doctor's office. She was driving on 224th Street in the Wilmington area and approaching Western from the east. As she was about 100 yards away from Western, a woman driving her car pulled out of a parking space right into the path of our client, who had the right of way.

The two cars collided and our client knew it was the other driver's fault. Our client got out and after a few "choice words," the two began pushing each other. The noise of the collision and the yelling thereafter caused neighbors to come out to the street to see what the commotion was all about. They told our client to stop raising her voice.
Our client protested, saying she had the right of way. According to our client, the neighbors told our client that if she did not calm down, "our people (a reference to a gang) will make you shut up." Our client allegedly responded, "well, I'll go home and get a gun!"
Police from the Harbor Division of the Los Angeles Police Department showed up due to the crash and the other party told the police that our client threatened to go get a gun to settle the problem.
Our client was then arrested for felony criminal threats and bail was set at $50,000.

Her family posted a bail bond through a bail bondsman and then called Greg Hill & Associates.

Greg listened to the client explain what had happened and commented that he did not think the case would be filed as a felony, but believed the Los Angeles City Attorney's office would file the case as a misdemeanor because the alleged mention of a gun was too serious to let pass without at least one charge.
Greg's prediction was more than accurate, as the Los Angeles City Attorney's Office filed a complaint alleging four counts of misdemeanor criminal threats (against the four women involved, two of which were in the car that hit our client's car and two who were neighbors), as well as four counts of assault, one against each of the women our client allegedly pushed or went after to hit, but did not.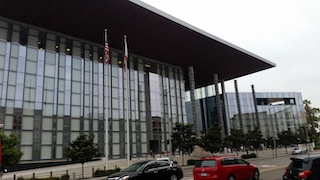 Long Beach Courthouse
The initial offer was that the client plead to three counts of criminal threats (the other five causes of action would be dismissed) in exchanges for three years of summary, or informal probation, with our client first serving 90 days in county jail and then, once released, attending 52 anger management classes and paying court fines of $220.
Greg recommended that the client immediately enroll in anger management classes, although Greg made it clear to her that it seemed like the police had four people agreeing together on a fabricated story to ensure our client's arrest and, with the mention of a gun, the police had no choice. Greg explained that the client's attendance at such classes would help with negotiating a resolution.

The client immediately enrolled in anger management classes just for women in San Pedro and provided Greg with her proof of enrollment paperwork to take to court.

Over several months of pre-trial hearings, Greg was able to plea bargain the resolution to our client agreeing to plea "no contest" to two misdemeanor counts of criminal threats and, in exchange, being placed on three years of informal probation (also called summary probation), with twenty-five days of community labor, 52 anger management classes and $220 in court fines.
The 90 days of county jail was negotiated "down" to 25 days of community labor. This was important for our client, as she did not want to miss any work by serving time in jail.
While the case was pending, our client attended 21 anger management classes (four months' worth at one class per week), so she still had 34 classes remaining, but not 52 new additional classes to attend.
This summary is a bit of a cautionary tale. The client faced fabricated facts, but such facts would be repeated in court at trial by four witnesses, so a jury might struggle to disbelieve all four witnesses. In other words, we advised that client that trial would be an exercise is our client most likely being convicted, wrongly so no less. Making matters worse, such a trial and the convictions would most likely be punished with significant jail time, so accepting the plea bargain was prudent under these difficult conditions.
Contact us.