Mental Health Diversion Retroactivity Not Intended
About This Article Briefly: Mental Health Diversion is not intended to apply to cases that reached a final judgement, according to the Sixth Appellate District in the case summarized herein. The program is designed to be applied prior to adjudication, not after a judgement, or even on appeal as in the case here.

On March 23, 2015, an officer at Salinas Valley State Prison was conducting a security check when defendant Harley Wayne Lipsett "threw liquid fecal matter through the crack of his cell door, striking the officer in the left arm, left leg, head, hat, and left boot." Additional officers responded and found that Lipsett's cell smelled of urine and fecal matter.
Defendant "was standing in front of his door yelling, 'I got him and I got Hep C!'" Defendant had cut himself on his arm and was dripping blood. When asked why he had thrown the fecal matter, defendant replied, "It doesn't matter, I'm getting out of here anyway and there's nothing you can fucking do!"
When arraigned on battery on a non-prisoner by a prisoner (Penal Code § 4501.5), with a sentencing enhancement of having suffered a prior strike, Defendant initially pled not guilty by reason of insanity and the parties agreed to appointment of two psychologists to examine him. After being examined and after the psychologists stated he was not insane, defendant withdrew his not guilty by reason of insanity plea.
The probation report described how defendant was 37 years old and had an extensive criminal history, beginning at age 13. His history included many assaults, vandalism and other crimes.
At sentencing, defendant addressed the judge, describing himself as suffering from mental illness for a long time.
The judge sentenced defendant to six more years in state prison, which was double the midterm for battery on a police officer. The three years was doubled to six due to defendant's prior strike.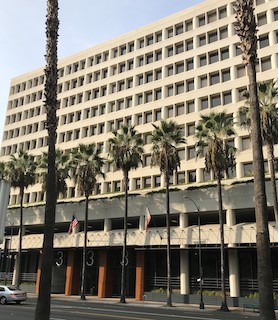 Court of Appeal Sixth Appellate District San Jose
Defendant then filed an appeal to the Sixth Appellate District, arguing that his case should be remanded to determine his eligibility for mental health diversion under Penal Code § 1001.36, which was enacted after he was sentenced.
The Sixth Appellate District approached defendant's appeal by first noting that since June 27, 2018, when Penal Code § 1001.35 and Penal Code § 1001.36 were added as "Mental Health Diversion," the program has always been considered "pretrial diversion." As used in the code, "pretrial diversion means the postponement of prosecution, either temporarily or permanently, at any point in the judicial process from the point at which the accused is charged until adjudication . . ." Penal Code § 1001.36(c).
The appellate court then discussed the six requirements for one to be eligible under Penal Code § 1001.36. It then narrowed down its focus and explained that the critical issue raised by defendant's appeal was whether 1001.36 is retroactive. It then quoted
Tapia v. Superior Court
(1991) 53 Cal.3d 282, 287, which states, "It is well-settled that a new statute is presumed to operate prospectively absent an express declaration of retrospectivity or a clear indication that the electorate, or the Legislature, intended otherwise." It also cited to section 3 of the California Penal Code, which states, "No part of the Penal Code is retroactive, unless expressly so declared."
However, in In re Estrada (1965) 63 Cal.2d 740, 744-746, 748, the California Supreme Court held that the presumption against retroactivity does not apply when the Legislature reduces the punishment for criminal conduct. Thus, under Estrada, one could presume that the Legislature intended for a statutory amendment to apply retroactively in cases that are not final on appeal.
The Estrada rule rests on the presumption, that absent a savings clause providing only prospective relief or other clear intention concerning any retroactive effect, "a legislative body ordinarily intends for ameliorative changes to the criminal law to extend as broadly as possible . . . " People v. Buycks (2018) 5 Cal.5th 857, 881-882.
However, the court's review of the Legislative history of 1001.36 revealed that the Legislature did not intend 1001.36 to apply retroactively to cases that were beyond adjudication, but not yet final on appeal. The court came to this conclusion by noting how the diversion program was intended as pretrial diversion so as to postpone prosecution. It cannot be applied after one is convicted.

Consequently, the court of appeal affirmed the trial court's ruling and denied defendant's appeal that argued he should have been considered for mental health diversion.

The citation for the Sixth Appellate District Court ruling discussed above is People v. Harley Wayne Lipsett (6th App. Dist., 2019) 45 Cal. App. 5th 569, 258 Cal. Rptr. 3d 903.

For more information about mental health diversion, please click on the following articles: