Mental Health Diversion After a Final Judgement?
In the case of California v. Eric Jason Frahs, summarized on this website at Article 958, the Fourth Appellate District ruled that Mr. Frahs, while convicted and sentenced to nine years in state prison for committing an assault with a deadly weapon and robbery, could request resentencing under Penal Code § 1001.36 because the judgement in his case was not yet final.
About This Article Briefly: The Frahs case mentioned in this article was affirmed by the California Supreme Court in late June 2020, meaning mental health diverion cannot be requested after a judgment is final. However, as described in the article below, the CDCR can request the trial court resentence a prisoner under Penal Code § 1170(d)(1) and Dix v. Superior Court (1991) 53 Cal.3d 442 "for any reason rationally related to lawful sentencing."

It is important to note that Frahs was not certified for publication, so under California Rules of Court, Rules 8.115(a) and (b), one cannot cite to this opinion as controlling or persuasive authority in any filing to a court.
The general principal enunciated in Frahs that a party is ineligible for resentencing after a judgment is final is consistent with other recent rulings that Senate Bill (SB) 620 is not retroactive to apply to those with final sentences to allow resentencing for someone convicted of a crime involving the use of a firearm, giving a judge discretion to chose among various sentence enhancements (ten year, twenty years or twenty-five years).
This general principal adopted in Frahs is also consistent with decisions ruling that Senate Bill (SB) 1393, giving a judge discretion to remove a five-year sentence enhancement for having a prior serious felony conviction no matter how long ago the conviction took place, is also not retroactive to apply to someone whose sentence is final.
Frahs' holding is also consistent with rulings that Senate Bill (SB) 180 not retroactive to one with a final sentence. SB 180 amended Health & Safety Code § 11370.2, effective January 1, 2018. It narrowed the scope of the three-year sentence enhancement applicable to someone convicted of a second or greater drug offense. The new law removed transporting of cocaine in violation of Health & Safety Code § 11352 and possessing cocaine for sale, among other offenses, governed by imposition of the three-year sentence enhancement.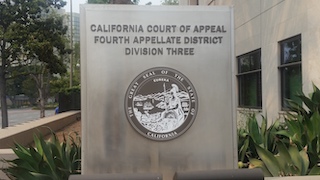 CA 4th Appellate District Division 3 OC
When is a sentence final? A sentence is considered final if: 1) there is no appeal pending in the court of appeal; 2) a petition for review in the California Supreme Court is not pending and cannot still be filed; or 3) more than 90 days has passed for filing a writ of certiorari to the United States Supreme Court (the "90-Day Clock" starts on the day one's petition for review to the California Supreme Court is denied).
However, if a sentence is deemed final, the CDCR, at any time while the sentence is being served, can recommend to the sentencing judge that he or she recall the sentence and review the sentence for possibly a lower term under Penal Code § 1170(d)(1). The judge has the power to resentence a person "for any reason rationally related to lawful sentencing." Dix v. Superior Court (1991) 53 Cal.3d 442, 456. Usually, this type of resentencing is to correct sentencing errors and to consider facts not available at the time of the original sentencing.
As mentioned above, Frahs is an unpublished decision. One cannot cite to it in a filing to any court. This could be seen as good if one is interested in mental health diversion despite a sentence being final.
However, that euphoria, if existing, was extinguished in the recent published decision in People v. Jeffrey Edward Sapienza (2019 DJDAR 6201) out of the Fourth Appellate District involving a case arising in Murrieta.
Mr. Sapienza pled guilty to felony criminal threats in Riverside Superior Court on August 31, 2015. Judge Elaine Kiefer imposed the upper term of three years in state prison, but suspended execution of the sentence and placed Sapienza on three years of formal probation.

Two years and four months later, Judge Kiefer found him in violation of probation and on March 23, 2018, imposed the three-year suspended sentence.
On May 16, 2018, Sapienza filed a notice of appeal, requesting a certificate of probable cause for ineffective assistance of counsel. In his appeal, he then argued that the imposition of the prison sentence should be reversed and then he should be considered for pre-trial diversion under Penal Code § 1001.36 ("mental health diversion").
The Fourth Appellate District denied Sapienza's appeal, pointing out that 1001.36 is not retroactive and that even if retroactive, it would be limited to cases wherein judgement was not final. Sapienza's judgement was final 60 days after the sentence was imposed by failing to file an appeal then (judgement was entered on August 31, 2015).
"The imposition of the sentence is equated with entry of a final judgement. Once a sentence is imposed, the trial court does not have jurisdiction to modify or change the final judgment and is required to order that judgment into execution." People v. Mora (2013) 214 Cal.App.4th 1477, 1482.
Where a defendant fails to challenge "the validity of the sentence the court imposed when granting probation, no good reason exists for allowing him to do so once the court revokes his probation." People v. Howard (1997) 16 Cal.4th 1081, at 1095; accord People v. Superior Court (Rodas) (2017) 10 Cal.App.5th 1316, 1318, 1325-1326 [to hold otherwise would have the "absurd effect of encouraging defendants to violate the terms of their probation in the hopes of extending the probation term to take advantage of any beneficial changes in the law during the probationary period."]
The citation for the Fourth Appellate District Court ruling discussed above is People v. Jeffrey Edward Sapienza (4th App. Dist., 2019) 39 Cal.App. 5th 58.

For more information about Mental Health Division under Penal Code § 1001.36, please click on the following articles:

Contact us.