Does Mental Health Diversion Apply in Juvenile Court?
In Article 1030, published on this website about five months ago, summarized In re M.S. (2019) 32 Cal.App.5th 1177, wherein Mental Health Diversion was found not applicable to juveniles. In In re M.S., defendant was charged with murder, which is excluded from mental health diversion in adult court, but her counsel attempted to have the juvenile court judge grant mental health diversion for her in juvenile court so she would avoid being excluded based on the charge in adult court.
Why This Article Matters: Mental Health Diversion does not apply in juvenile court, as the following case describes, but ironically it might apply to a juvenile if prosecuted as an adult in adult court.

In a way, counsel in In re M.S. was asking for too much. First, he or she seemed to assume that mental health diversion would apply in juvenile court and that, second, wanted the judge to distinguish adult court from juvenile court and allow mental health diversion for murder being charged in juvenile court.
The judge in In re M.S. responded by saying Mental Health Diversion simply did not apply in juvenile court and never addressed counsel's second argument that if it did apply, murder would not be barred from diversion.
In re M.S., in other words, was an unusual case and the reader may be left with wondering if the charge had not been murder for M.S., would Mental Health Diversion apply in juvenile court?
Also, what if the juvenile's case was transferred to adult court and the juvenile was prosecuted as an adult, would Mental Health Diversion be an option?
The answer to both questions was recently answered in In re J.M. (2019 DJDAR 4836), wherein J.M. was charged with torture, Penal Code § 206. Torture, it should be noted, is curiously not one of the crimes recently excluded from Mental Health Diversion. The crimes that were excluded by amendment to Penal Code § 1001.36(b(2) are murder, voluntary manslaughter, rape and any offense resulting in Penal Code § 290 registration except Penal Code § 314 (indecent exposure).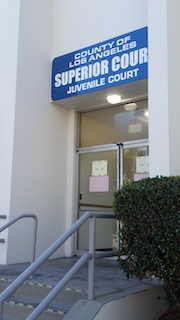 Juvenile Court Inglewood
A little bit of the factual background for In re J.M. is good to know for the context of the First Appellate Court's rulings on the two issues bolded above. On May 13, 2017, J.M. (then age 14) and another minor, S.S., attacked minor Janes Doe at a cemetery in Sonoma County. J.M. and S.S. took turns slapping, punching and pulling the hair of Jane Doe for ten minutes. Jane Doe estimated she was punched 100 times and kicked 50 times. Ms. Doe lost a large amount of blood, lost control of her bladder and lost control of her bowels. Her injuries included a fractured skull and a broken nose.
S.S. and J.M. recorded cell phone video of the attack and shared it with friends. During the video, J.M. laughed and urged Jane Doe to fight back. At one point, J.M. noticed Jane Doe's blood on her shoe and ordered Jane Doe to lick in off and Jane Doe did so. Then the punching and kicking continued.
The motivation for the attack perhaps is irrelevant, but J.M. explained to police that she had shared a secret with Jane Doe at school and Jane Doe had told others the secret.

After the attack, according to the probation report, J.M. suffered from depression and post-traumatic stress disorder (PTSD) due a history of abuse and trauma from her father.

The People filed a wardship petition under Welfare & Institutions Code § 602 alleging J.M. committed torture and assault by means of force (Penal Code § 245(a)(4)), with an enhancement on count 2 for personal infliction of great bodily injury (Penal Code § 12022.7(a).
J.M. admitted the torture allegation in a plea bargain. The judge explained to J.M. that in adult court she would face a life sentence. J.M. was then committed to the Ventura Youth Correctional Facility in Camarillo, California for a maximum period of seven years with credit for 206 days in custody.

J.M. then filed a writ of habeas corpus, alleging numerous errors in the proceedings. This article will only focus on her claim that she should have been afforded Mental Health Diversion under Penal Code §§ 1001.35 and 1001.36.
The First Appellate District Court, citing to In re M.S., held that Mental Health Diversion simply does not apply to juvenile court proceedings, but Mental Health Diversion would apply to a juvenile being prosecuted in adult court. In J.M.'s situation, however, because of her age and changes in Proposition 57, here case would have been ineligible for transfer to adult court because she was only 14.
In our opinion, we think the appellate court in In re J.M. read In re M.S. far too broadly. We do not think In re M.S. was intended to have such a broad interpretation.
The citation for the First Appellate District Court ruling discussed above is People v. J.M. (In re J.M.) (1st App. Dist., 2019) 36 Cal.App.5th 668.

For more information about mental health diversion, please click on the following articles:
Contact us.