What Is Cognitive Development Disability Diversion?
Cognitive Development Disability Diversion, set forth at Penal Code § 1001.20, is a pre-plea diversion program for those charged with any crime and with a documented intellectual disability. The program is not just for misdemeanor offenses as some may believe (wrongly).
Summary in 50 Words or Less: Cognitive Development Disability Diversion is a much-needed program that is for both felonies and misdemeanors for those who commit crimes, but do not have the intellectual development to go to trial, i.e. because of autism or some other intellectual disability. This is also called "Regional Center Diversion." The Program lasts 18 months.

The person, because of their intellectual deficit, is unable to proceed to trial and declared as so under Penal Code § 1371. Like when a doubt is declared under 1368, legal proceedings are suspended while Cognitive Development Disability Diversion is granted. The diversion program then lasts up to 18 months.
Such a disability includes, but is not limited to, autism or sub-average general intellectual function co-occurring with a deficit in adaptive behavior and is usually documented and manifested well before age 18. Most often, such a disability is identified before the person is five years old. Other times, especially when the person has immigrated to the United States later in life, the disability is not recognized until that person runs into law enforcement here.
Usually, an attorney meeting with the client will recognize that defendant just does not understand what is happening and must inquire of the client's parents or guardian about the presence of such a cognitive or intellectual disability.
Such a program, also called Regional Center Diversion, used to be more frequently sought, but now with Mental Health Diversion under Penal Code § 1001.36, Regional Center Diversion is requested less and less. Many attorneys, including prosecutors, also simply do not know about Cognitive Development Disability Diversion and instead, sadly, resolve cases knowing that defendant most likely is simply going to re-offend. It is not a question of if, but when.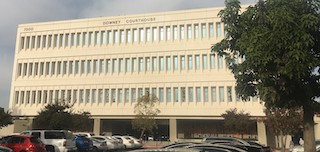 Downey Courthouse
Other times, defendant's "disability" is mistakenly attributed to years of accumulated drug and/or alcohol abuse when instead, the person was developmentally impaired even before embarking upon years, if not decades, of alcohol and/or drug abuse.
Accordingly, defense counsel and the prosecution then mistakenly resolve the case with a conviction and some form of counseling, whether it be Narcotics Anonymous (NA), Alcoholics Anonymous (AA), anger management, sexual compulsiveness counseling, animal cruelty classes or a petty theft diversion program, depending upon the crime alleged.

Referral of such a person to these types of class is usually a mistake because the defendant cannot possibly understand what is really going on and what the classes are about. The classes, in other words, are not effective at all.
Mental Health Diversion, it should be noted, is distinguishable by being for any type of crime, with certain very serious crime exceptions, for someone with a recognized mental condition identified in the most recent DSM and wherein there is a nexus between defendant's mental health condition and the commission of the crime. The diagnosis and opinions of a treating psychiatrist is often required for the judge to evaluate.
Cognitive Development Disability Diversion, on the other hand, is usually less difficult to obtain for a client. Usually, the parents or guardian of the defendant are actively involved and the Regional Center may be the one contacting an attorney from the outset. The defendant may have already spent considerable time in a group home from an early age.
Cognitive Development Disability Diversion does require first and foremost that defendant has been diagnosed with some form of a cognitive development disability as described above. The Regional Center must then agree to accept the individual for some form or inpatient or outpatient treatment and develop a plan to return the individual to competency. The closest such office to the Torrance Courthouse is near the Starbucks just off Torrance Boulevard and Hawthorne.

Once referred to the county's Regional Center, competency restoration services are provided, including personal care, physical therapy, occupational therapy, and speech therapy. There is commonly also training, education and some form of "sheltered" employment at the Regional Center. The goal is to allow the individual to avoid a conviction while receiving some form of help to live on his or her own without committing any further crimes.
The court will hold periodic progress reviews to monitor the individual's adherence to the Regional Center program. Usually, a representative from the Regional Center will come to court with a report concerning defendant and present it to the judge.
After the individual completes a certain amount of treatment and training at the Regional Center, the case is dismissed.
We hope this article helps educate those who may be handling cases for those with cognitive and intellectual disabilities who commit misdemeanor offenses.
For more information about mental health and mental capacity issues, please click on the following articles:
Contact us.