May a Judge Terminate Parole under Penal Code 1203.2(b)(1)?
In reviewing the various forms of post-conviction relief and penalties, it is important to understand that the California Department of Corrections and Rehabilitation (CDCR) has exclusive powers over a defendant in certain contexts. In other words, a judge or a court sometimes does not have power over a defendant.
Why This Article Matters: A judge may not terminate parole under Penal Code § 1203.2(b)(1), as terminating parole is a power exclusive to the CDCR, but the judge may modify, revoke or terminate supervision of the person on parole.

In 2006, Mr. Darryl Johnson was convicted in Alameda County of receiving stolen property and sentenced to two years in state prison. He was released on parole in June 2007, subject to a three-year parole term.
Two months after being released from prison on parole, he was convicted of grand theft and possession of a controlled substance for sale.

Curiously, for these two new convictions, the trial court deemed his sentences served and "reset" his three-year parole date to start on August 20, 2007, apparently considered the supervision of him on parole sufficient.

However, after being given a new parole date, Mr. Johnson absconded from parole supervision, only to return to check in and then absconding again. He did this eleven times, for a total time of absconding for 3,215 days (or almost ten years of absconding). Each time that he would return from absconding, he would go to jail for a time, which after doing this eleven times, total 699 days, or almost two years.
Finally, on May 23, 2019, the CDCR filed a petition to revoke Johnson's parole.
As the reader may sympathize with, at the hearing on the petition, Judge Scott Patton asked the CDCR why it was "wasting time" "keeping him on parole" when he had not "committed any felonious conduct" in many years" and "resources would be better spent won people [who] are seeking the resources or are . . . committing new crimes."
The CDCR responded that it could not agree to just waive Johnson's obligation to serve the full time on parole because he had absconded for so many years and during that time, the CDCR had not supervised him at all.
Apparently frustrated with this answer, Judge Patton then ordered Johnson's parole terminated after Johnson admitted he had violated parole by absconding since 2013. The judge issued an order revoking parole, restoring it and then placing him back on parole, but with no supervision on parole, stating that "continuing [him] on parole would not serve the interest of society."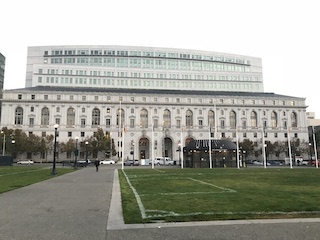 Court of Appeal First Appellate District San Francisco
The CDCR appealed this ruling to the First Appellate District, arguing that the judge exceeded his authority because a judge does not have the authority to terminate parole, which only the CDCR does. The CDCR cited to Penal Code § 1203.2(b)(1), which states:
Upon its own motion or upon the petition of the supervised person, the probation or parole officer, or the district attorney, the court may modify, revoke or terminate supervision of the person, except that the court shall not terminate parole pursuant to this section.

In a published ruling at 2020 DJDAR 13123, the First Appellate District agreed with the CDCR, explaining that the judge indeed exceeded his authority by striking supervision as a term of parole. It cited to People v. Johnson (2020) 45 Cal.App.4th 379, at 397, for an interpretation of 1203.2(b)(1) that a judge cannot terminated supervision for a person on parole.
Indeed, under 1203.2(a), the code states that upon the person's arrest, the court may do many things, "However, the court shall not terminate parole pursuant to this section." In Johnson, the court similarly defined "supervision" to include parole, which the appellate court found was a mistake. Only the CDCR supervises a person on parole "because an order terminating parole as a sanction for a parole violation would mean a return of the parolee to prison because he has not been successful on parole."
We bring this summary to the reader's attention because it distinguishes the difference between probation, post-release community supervision and parole. Parole is different and the judge must not terminate parole of a parolee. That is an exclusive power of the CDCR, as this case exemplified.
(It is important that the reader note that under California Rules of Court, rule 8.1105(b) and 8.110, this opinion is certified for publication with the exception of its discussion of parole discharge date, which this article does not summarize, but if the reader were to look further into this opinion to proceed accordingly).
The citation for the First Appellate District Court ruling discussed above is People v. Darryl Johnson (1st App. Dist., 2020) 58 Cal. App. 5th 363, 272 Cal. Rptr. 3d 399.

For more information about parole, please click on the following articles: