May a Judge Remove an Unruly Defendant from the Courtroom?
In June, 2011, Torrance Judge James Brandlin, now retired, removed Defendant Carlton Mayham from his courtroom during trial after Mayham repeatedly yelled, "You are all trying to f..k me over!" The outbursts continually disrupted trial, finally leading Judge Brandlin, to move Mayham to a nearby holding cell.
In 50 Words or Less: Unruly defendant removed from courtroom is not entitled to have audio or video feed to hear or see continued testimony in trial.
Mayham faced charges of corporal injury to the mother of his child (Penal Code § 273.5(a)). The case was filed after Mayham caused Christian Cornejo to bleed profusely from her forehead. Cornejo at the preliminary hearing testified that Mayham hit her with his fist after the two had an argument about child expenses. Cornejo also had a sore shoulder. The laceration to her forehead required three stitches to close.
Cornejo was interviewed by two separate detectives and in each interview, reported that Mayham had injured her.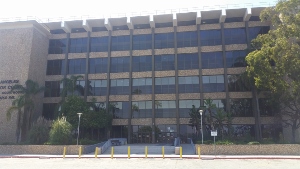 Torrance Courthouse

Nine days later however, Cornejo was picked up on a bench warrant in an unrelated case and told the police that, as far as her injuries to her forehead, "she was beat up by females." She also told a police officer that she made up the story about Mayham hitting her.
Detectives then reviewed the audio recordings of Mayham talking to Cornejo from jail by phone. In his calls, he suggested that Cornejo recant her story and instead explain that some girls injured her. He also suggested that she say to police that she lied because she was mad at Mayham, her husband, because "he was messing around with other women."
At trial, Cornejo did not appear either pursuant to subpoena or when officers attempted to find her. Judge Brandlin made a finding that Cornejo was unavailable, consequently allowing her testimony from the preliminary hearing to be read to the jury.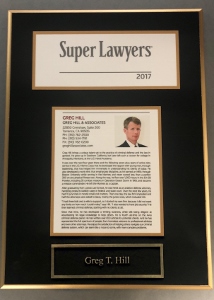 While Cornejo's testimony was read to the jury, Mayham became extremely disruptive, disobeying the judge's orders to remain silent. When it became apparent that Mayham was interfering with the jury's ability to evaluate the evidence, Judge Brandlin ordered Mayham removed from the courtroom under Penal Code § 1043. No audio or video feed to hear or observe evidence was provided to Defendant once he was removed. The trial continued.
The jury then convicted Defendant and Judge Brandlin sentenced Defendant to nine years in state prison after granting the defense motion under Romero to strike a strike for purposes of sentencing.
Defendant appealed his conviction on multiple grounds, however, this article will limit its scope to Defendant's argument that his state and constitutional due process rights to a fair trial were violated by not being provided a video or audio feed of trial proceeding after he was removed from the courtroom. Defendant had moved earlier for a mistrial on such grounds, but that motion was denied.
On appeal to the Second Appellate District in People v. Carlton Mayham (2013 DJDAR 448), the ruling was affirmed. The Second Appellate District started its analysis by noting that the standard for review is whether the trial court abused its discretion. People v. Lewis (2008) 43 Cal. 4th 415, 501. The second layer of analysis was whether the lower court's ruling resulted in prejudicial error. People v. Ault (2004) 33 Cal. 4th 1250, 126.1.
In evaluating whether the trial count abused its discretion, the appellate court gave great weight to Mayham's disrespectful outburst and the court's patience. However, the patience did end after repeated warnings, so the appellate court found no abuse of discretion in removing Mayham from the courtroom.
Turning to whether such deprivation of an ability to monitor trial was prejudicial to Mayham, the court found it was not because Cornejo was not available for cross-examination anyways.
Accordingly, the Torrance verdict was affirmed.
The citation for the Second Appellate District Court of Appeals ruling discussed above is People v. Carlton Mayham (2d App. Dist., 2013) 212 Cal.App.4th 847, 151 Cal. Rptr. 3d 450.

For more information about trial rights, click on the following articles:
Contact
Greg Hill & Associates