Must Defendant Be Present in Court If There Is a Trial?
A common reason not to proceed to trial is the fact that defendant may not be a sympathetic or likeable person. He or she may have tattoos on his face or neck that suggest a familiarity with the rougher side of life. The person may be extremely obese or thin, suggesting extreme laziness or a drug addiction. The person otherwise may just not fit the model of a successful, tax-paying model citizen.
Summary in 50 Words or Less: Waiving defendant's appearance at trial must be by stipulation and the prosecutor, unless he or she is inexperienced, may refuse. However, one should try, especially if the identity of defendant is an issue or defendant's appearance suggests membership in a gang, being a drug addict, etc.

Our office is often asked this question and we usually answer "yes" because, quite frankly, we need the client present to help us with cross-examination of witnesses and we value the client's suggestions during trial. The client may remember something crucial about the case that was never brought out in the police report and only becomes relevant in trial.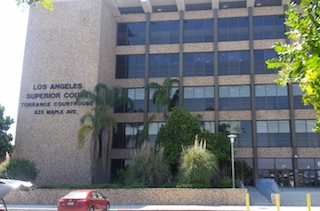 Torrance Courthouse
However, the client's personal situation may make appearing at trial an undue burden, but the plea bargain offered is simply unacceptable. Therefore, proceeding to trial is the only option, but the client cannot appear in court without major difficulty.
From the prosecution's perspective, it may be acutely aware of the client's absence. Thus, it is a great idea to consider waiving the client's presence at trial, especially if the identity of the defendant as a suspect is important. After all, in almost every trial, there is a point where the prosecution asks a witness to identify the defendant sitting in the courtroom as the suspect or person of interest. This is an important point of proof for the prosecution in carrying its burden of proof.
A prosecutor would be exceptionally careless to stipulate to excuse a client's appearance in trial when identity is an issue, but defense counsel should gently explore this issue, with discretion. If such a stipulation can be reached and the prosecution cannot prove their case, the prosecutor will never do so again.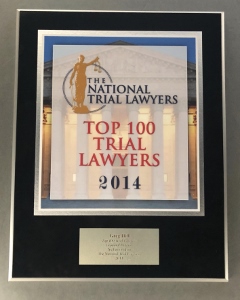 However, where the client's identity is not an issue or the client agrees to stipulate to his identity as the suspect, waiving the client's appearance at trial may be viable. This may be true because the case is an extremely minor misdemeanor and thus the punishment is relatively minimal. This may also be smart when the client does not make a good appearance.
California case law allows a party to stipulate or admit to certain facts to remove them from dispute, thus making any evidence concerning them inadmissible because they are irrelevant. For example, in
People v. Bonin
(1989) 47 Cal. 3d 808, 848, the court held it was error to reject such a stipulation.
When the defense attorney offers such a stipulation, the prosecutor cannot refuse to accept the stipulation in bad faith. If he or she is going to refuse to stipulate to excuse the defendant's presence, he or she must have a legitimate tactical reason which is not satisfied by the stipulation.
People v. Hall
(1980) 28 Cal. 3d 143;
People v. Valentine
(1986) 42 Cal. 3d 170;
Old Chief v. United States
(1997) 519 U.S. 172;
United States v. Hernandez
(9th Cir. 1997) 109 F. 3d 1450.
What might this be? This is hard to say, as the facts in each case vary. However, if self-defense is a defense and defendant is a hulking, six foot, seven inch woman, 340 pound professional football player, but the victim is a petite, four foot, eleven inch, the prosecution may refuse to excuse defendant's presence, as it would be important to have defendant present to refute the reasonableness of such a self-defense claim.
Likely, if the client appears like a heavy drug user, and police were conducting an undercover sales operation, the prosecution may want defendant present in court to help show the reasonableness of the undercover cop's suspicions, perhaps to refute a defense claim that officers had no grounds to detain defendant after she acted suspiciously in response to police questions.
Consequently, we believe excusing the defendant from trial is an underused tactic that can have merit if used properly.
For more information about trial issues in general, click on the following articles:
Contact
Greg Hill & Associates