May a Judge Disqualify Public Defender without a Conflict?
A public defender is required by law to determine whom to represent, pursuant to Government Code § 27706(a). This statute says that the public defender "shall" defend any person who is not financially able to employ counsel and who is charged with the commission of "any contempt or offense triable in the Superior Courts at all stages of proceedings." This duty arises upon the request of the defendant or upon order from a judge.
This obligation extends to juvenile proceedings. Government Code § 27706(a), (e) and (g); Welfare and Institutions Code § 634 and 700.
The Gist of this Article: A judge may not disqualify a public defender unless the judge finds a conflict of interest in the representation or the defendant is found not indigent. This is so even if defendant is facing multiple probation violations on different cases in a consolidated hearing, with both private counsel and one or more public defenders all representing defendant, as in the case summarized below.

In the Eastlake Juvenile Court, Judge Donna Groman found herself presiding over multiple cases involving Joshua P., a juvenile. In the first case, he was charged with two counts of misdemeanor assault with a deadly weapon (Penal Code § 245(a)(1)) by using a pellet gun. In this, he was represented by private counsel. Joshua P. admitted this allegation and was placed on probation.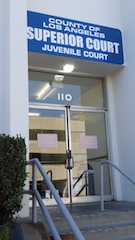 Juvenile Court Sign
In a second case, he was charged with one felony count of possession of a weapon – a locking blade knife – on school grounds (Penal Code § 626.10(a)(1)). He eventually admitted the allegation and was removed from his mother's custody and placed in a juvenile camp for three months, followed by probation. Private counsel represented Joshua P. in this case, too.
There were three more petitions filed against Joshua P. In the third petition, he was charged with possession of brass knuckles (Penal Code § 21810) and theft of an access card or account information (Penal Code § 484(e)). The public defender represented Joshua P. in this case, the only case filed in the Compton Juvenile Court.
In his fourth petition, in Eastlake, he was charged with vandalism with possession of spray paint (Penal Code § 594(a) and (e)(1)). A public defender was appointed on this case.
In his fifth petition, he was charged with unlawful alteration of an imitation firearm. (Penal Code § 20150(a)). In this case, a public defender was appointed. This case was also filed in Eastlake.
As the reader of this article may expect, the District Attorney also alleged probation violations on the first two cases. Indeed the first and second cases resolved and Joshua P. was on probation when the third, fourth and fifth cases were filed.
At a consolidated probation violation hearing, Joshua P. was represented by both private counsel and multiple public defenders. It was most likely rather chaotic deciding who should speak for the juvenile. It was therefore quite understandable that the judge, for judicial economy, disqualified the public defender, leaving just private counsel to represent Joshua P.
The public defender objected to this, as Joshua P. indicated he wanted the public defender to help him and there was no conflict that would disqualify the public defender.
Joshua P. then admitted the one count of misdemeanor vandalism in return for dismissal of the other two petitions, including those for probation violations. The court placed Joshua P. at the Sierra Ridge Academy near Sacramento for a period not exceeding four years.
Joshua then petitioned the Second Appellate District to issue an order directing the superior court (a writ of mandate) to reinstate the public defender as his counsel.
Joshua P. argued that the trial court judge acted in excess of her jurisdiction and abused her discretion in declining to let the public defender represent him. He argued that the judge could not remove the public defender unless there was a showing that Joshua P. was not indigent or a conflict existed.
While acknowledging Judge Groman's good intentions to provide Joshua P. the best defense by eliminating excess counsel, the appellate court agreed with Joshua P. in stating he had the right to a public defender if he was not proven not indigent and no conflict was shown. Indeed, our office has nothing but good impressions of Judge Groman in our experience with her.
Accordingly, the court of appeal granted the writ of mandate, directing the trial court to set aside its order disqualifying the public defender and to enter a new order appointing the public defender.
For more information about juvenile court proceedings, click on the following articles: