May a Court Ban a Sex Offender from Posting on Facebook?
The First Amendment and the right of a state to regulate the behavior of those it determines are a danger to the public can conflict and often do.
The Gist of this Article: A law that prohibits all sex offenders from accessing the Internet is unconstitutional, the U.S. Supreme Court has recently (2017) held, as the following article summarizes.

On one hand, the First Amendment allows all persons to have access to places, including cyberspace, where they can speak, listen and exchange views. On the other hand, the state has an important governmental interest in keeping convicted sex offenders away from vulnerable children.

This conflict recently arose and was litigated in the case of North Carolina and one registered sex offender there. North Carolina enacted a statute that made it a felony for a registered sex offender "to access a commercial social networking Web site where the sex offender knows that the site permits minor children to become members or to create and maintain personal Web pages." N.C. Gen. Stat. Ann. §§ 14-202.5(a), (e). This statute broadly barred access not only to social websites like Facebook, Twitter, LinkedIn and other social websites, but also sites like Amazon.com.

According to North Carolina, it has prosecuted over 1,000 people under this statute.
Lester Packingham was a registered sex offender in North Carolina who posted "God is Good!" on his Facebook account after he obtained a dismissal of a traffic ticket. He was then indicted under the statute above and made a motion to dismiss the indictment on grounds that the law violates the First Amendment.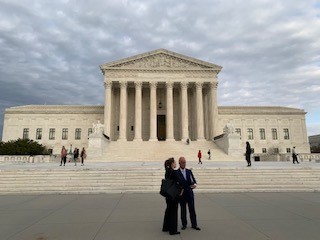 U.S. Supreme Court
The trial court judge denied the motion and the case went to trial. Packingham was convicted and given a suspended prison sentence.

He then appealed and the State Court of Appeals struck down §§ 14 – 202.5, but the North Carolina State Court reversed. Packingham then appealed to the United States Supreme Court.

The U.S. Supreme Court, in an opinion decided June 19, 2017 (Packingham v. North Carolina (2017 DJDAR 5747)), reversed the North Carolina state supreme court, finding in Packingham's favor.

The opinion, authored by Justice Kennedy, warns that courts "must exercise extreme caution before suggesting that the First Amendment provides scant protection for access to vast networks" of the Internet.

The Court undertook the step-by-step analysis every law school student is familiar with for evaluating if a statute is unconstitutional. It first evaluated whether the statute was content neutral and found it was. Consequently, the statute was subject to intermediate scrutiny.

Under intermediate scrutiny, a statute will pass constitutional muster "if it is narrowly tailored to serve a significant governmental interest." Here, the court acknowledged that "sexual abuse of a child is a most serious crime and an act repugnant to the moral instincts of a decent people." Ashcroft v. Free Speech Coalition (2002) 535 U.S. 234, 244, and that a legislature "may pass valid laws to protect children." Id. at 245.

However, the assertion of a valid governmental interest "cannot, in every context, be insulated from all constitutional protections." Stanley v. Georgia, 394 U.S. 557, 563.

Here, the U.S. Supreme Court looked to the North Carolina statute to see if its scope was narrowly-tailored to address postings that presage a sexual crime, like contacting a minor or using a website to gather information about a minor. Here, the U.S. Supreme Court found the statute failed this fundamental, basic test. "With one broad stroke, North Carolina bars access to what for many are the principal sources for knowing current events, checking ads for employment, speaking and listening in the modern public square, and otherwise exploring the vast realms of human thought and knowledge."

The statute, in other words, prevents users from engaging in legitimate exercise of First Amendment rights. "Even convicted criminals – and in some instances especially convicted criminals – might receive legitimate benefits from these means for access to the world of ideas, particularly if they seek to reform and pursue law and rewarding lives."

In short, the law was far too broad and the state of North Carolina could not show this sweeping law was necessary or legitimate to serve its purpose of keeping convicted sex offenders away from vulnerable victims.
The citation for the U.S. Supreme Court ruling discussed above is Lester Gerard Packingham v. North Carolina (2017) 582 U.S. ___, 137 S. Ct. 1730, 198 L. Ed. 2d 273.