Manhattan Beach, Ticket for MBMC 4.102.010, Case Dismissed
Our client, an attorney in his late 20's, was arrested for urinating behind a green tarp hanging off a fence surrounding a construction site. Our client was walking home from a Manhattan Beach bar early on Sunday morning, about 2:30 a.m., and just could not make it home without needing to relieve himself.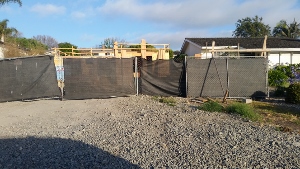 Construction Site within the City of Manhattan Beach
He had tried to use the porta-potty at the construction site, but it was locked. The police officer nearby apparently noticed this and decided to watch what our client did next. As the police officer anticipated, our client chose to urinate close by.
While our client was certainly hidden from view from the street and even neighbors of the house under construction (it was also 2:30 a.m. and dark and he was not in the light), he was arrested for public excretion, a violation of Manhattan Beach Municipal Code § 4.102.010.
The Torrance District Attorney handling cases for Manhattan Beach, once she heard the circumstances of the arrest, agreed with Greg Hill that the problem was perhaps more related to alcohol consumption than urinating in a place visible to the public.
(It merits mention in this summary, for the reader's appreciation of why Hermosa Beach enforces the law against urinating in public, that it is illegal to wash urine down a storm drain because the town is so close to the ocean. Therefore, Hermosa Beach residents and merchants, if they are to follow this clean storm drain law, must simply allow the urine to evaporate or they must otherwise clean it up, i.e. with a towel. Either method leaves quite an unpleasant smell).
Synopsis: Client, an attorney, arrested for public excretion (Manhattan Beach Municipal Code § 4.102.010) in Manhattan Beach, case dismissed.

However, it is equally noteworthy that our office has never seen a resident or merchant in Hermosa Beach ticketed, arrested or prosecuted for using a garden hose or bucket of water to wash the urine down a drain. Instead, the drunk bar patron, who has just spent perhaps over $100 in a local bar, is locked out of the bar, provided inadequate public restrooms and then handed a ticket that could be over $1,000 and possibly a criminal record.
We think the solution to this problem is to either allow residents and merchants to wash urine down the storm drains, as most other cities nearby do, and / or improve the lighting and signage for the public restrooms in downtown Hermosa Beach. An even better solution would be to either require restaurants and bars to allow patrons back in to use the restrooms or build public restrooms in the parking structure to the north of the Pier Plaza and in the ground-level parking lot to the south of Pier Plaza.
The current public restrooms are on the sand, near the pier, which is far away from where they are needed late at night. Moreover, even if someone were to venture in that direction, the restrooms are poorly lit and raise concerns about personal safety if one were to enter such a place.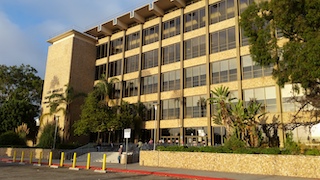 Torrance Courthouse
In this case, the District Attorney agreed that our client could "earn a dismissal" if he went to 20 AA meetings and showed proof of this within three months. He also had to pay the booking fee to the City of Manhattan Beach.
True to his word, our client then paid the booking fee and attended 20 AA meetings. The case was indeed dismissed.
This was greatly appreciated by our client, who worked for a large, multi-national law firm and wanted to keep his opportunities for promotion to partner open.
For more information about the issues in this public urination case summary, click on the following articles:
Contact us.