Manhattan Beach, Shoplifting from Fry's, Plea to Infraction
Our client, age 55, took a computer cable worth $6.99 without paying for it from Fry's in Manhattan Beach. He was stopped by the electronics store's loss prevention employees a few feet outside the store and later picked up by the Manhattan Beach Police Department, who took him to the police station for booking. It was our client's first ever criminal offense.
Summary in 50 Words or Less: Client, age 55, uses a pocket knife to open a package and take a computer cable worth $6.99 from the Manhattan Beach Fry's without paying. Client was then arrested and booked. He faced a misdemeanor case and was clearly guilty, but case resolved for an infraction with no probation and just a fine to pay.

Earlier in the day, when our client was in the Manhattan Beach Fry's, he carried the package containing the cable to an aisle several aisles away. Once there, he opened up the package, removed the cable using a pocket knife. This was clearly documented on a high-quality store security video as one might expect from an electronics store selling such items.
Our client then put the cable in his coat pocket. He then left the opened box in the aisle. Little did he know, but the store's high definition security video cameras were recording his every move – and loss prevention was watching the monitors. Once our client attempted to leave the store without paying, he was stopped.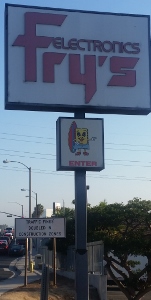 After his arrest, our client was dumbfounded at being charged with a misdemeanor for such an item of such small value. He said a warning was all that was necessary. However, as he was to later understand, it is not so much the value of the item taken as the act of stealing and the mental intent to do so that is more significant than the value of the item stolen.
The client called Greg Hill & Associates after being released from the Manhattan Beach police station, stunned that the store and the police considered the incident so serious. He thought he could just pay the price of the cable and the store would have been happy. He was then amazed that the police reported to the store and handcuffed him, took to the station and booked him on a charge of violating Penal Code § 484(a), "petty theft." He kept saying "it was no big deal."
Greg explained that many stores, including the "big box" stores often have a zero-tolerance policy toward any theft so as to not encourage minor theft or enable such conduct. While he empathized with the client, he did not agree that the arrest was a mistake. As Greg explained to the client, it was the mindset that was the issue, not so much the value of the item actually stolen. The client said he understood.
The Torrance District Attorney further explained that because of the sophistication and apparent planning that was recorded on the store security cameras, the conduct was more relevant than the value of the item at issue.
Greg Hill of our office, however, negotiated a plea bargain wherein our client would "earn" an infraction, as a charge of violating Penal Code section 490.1 (and the section 484(a) charge would be dismissed), if he completed an online shoplifting course and performed sixty hours of community service. This was a big relief to our client, a then-unemployed auto mechanic, because an infraction is equated with a parking ticket, but a misdemeanor is associated with a more serious offense.
In addition, since shoplifting is a crime involving dishonesty, our client was extremely worried that a misdemeanor conviction would disqualify him from employment if the employer did a background check on him, as they might expect him to steal from a customer's car being entrusted to the shop for repairs, or that our client would steal tools from his employer.
Moreover, in a plea to a misdemeanor, there is a required period of probation following the plea and our client did not want to have to reveal he was on probation to an employer. With the case resolving as an infraction, he would avoid being on probation.
For more information about the issues in this theft offense case summary, click on the following articles:
For more information about theft and robbery crimes, please click
here
to watch our theft offenses video.
Contact us.