Manhattan Beach, Shoplifting $1,750 at Macy's, No Jail
Our client, a 59 year old registered nurse with no prior criminal history, was having a bad day. She had recently gone through menopause and was still grieving the loss of her mother over ten years ago. She was not married and never had been married.

In a Nutshell: Manhattan Beach shoplifting of over $1,750 from Macy's, case resolved for three years of summary probation, $150 fine, plus penalties and assessments, no jail and ten days of community service.
She had purchased some expensive pants at the Macy's in the Torrance Del Amo Mall, but decided she wanted to return them. So, when was in the area of the Manhattan Beach Macy's, she decided to try to exchange them at the Manhattan Beach store, taking in her receipt and the Macy's bag, too.
She first asked a Macy's employee if the store carried such pants, as she wanted to exchange them for another pair of pants. The employee was apparently quite rude, which angered our client quite a bit.
In response, she walked around the inside of the Macy's and loaded over 20 clothing items into a large orange bag she had. She loaded twelve shirts, six pairs of pants, three pairs of socks, a jacket, a $218 skirt, an orange tote bag and a white Macy's bag. Loss prevention was observing her with some curiosity from several overhead video cameras.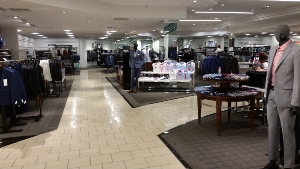 Inside a Macy's Store
She then walked out of the store toward her car without paying for any of it, only to be stopped about twenty feet just outside the doors.
When stopped, the client allegedly explained to loss prevention why she did it by saying that "it was just so easy."

She was then taken back into the store and held until the Manhattan Beach Police Department arrived.
Our client was quite upset that she was not simply let go because it was her first time ever being arrested and insisted that an anxiety condition she had was the reason for her conduct. She was indeed under treatment for anxiety.
Instead of being released, however, she was cited for felony commercial burglary (Penal Code § 459) and felony grand theft (Penal Code § 487). She then was asked to sign a promise to appear in the Torrance Superior Court in about eight weeks and let go. She was not taken to the Manhattan Beach Police Station and booked (and held for several hours), most likely because of her explanation that she had an anxiety condition.
The client then called up Greg Hill & Associates in a state of extreme anxiety over losing her license as a registered nurse. She had not lost the license, but someone had told her it was certainly possible (which is true) and our client decided she needed an attorney ASAP.
Greg then met with her and listened to the client explain what happened. She then asked if Greg thought her case would be resolved through diversion, so she could avoid a conviction. Greg frankly explained that diversion would probably not be allowed for her, due her age and the high dollar value of the theft. However, he believed he could reduce the charges to a misdemeanor case and resolve it for a court fine of perhaps $250, plus penalties and assessments (total of about $1,120). A misdemeanor with no jail time would be problematic nonetheless with the Nursing Board for our client, but less so than if the charges remained a felony and she served any time in jail.
Greg then recommended that the client immediately enroll in and complete an online shoplifting prevention course, which she did.
Greg's prediction as to how the case would resolve proved to be just about right. The case was indeed reduced to a misdemeanor and the fine was $150, plus penalties and assessments (total of about $730), better than anticipated, but the District Attorney insisted upon our client performing ten days of community service. The final terms of the plea bargain were appreciated by the client because the original terms included 60 days of country jail and a $350 dollar fine, plus penalties and assessments.
The client was happy with the final plea bargain, although it was not a dismissal as she initially believed would be offered due to her clean record
For more information about the issues in this theft offense case summary, click on the following articles:
For more information about theft and robbery crimes, please click
here
to watch our theft offenses video.
Contact us.