Manhattan Beach Public Intoxication, Disturbing the Peace
Our client, age 27 and a four-year college graduate, was in Manhattan Beach with friends from work who were in town for a meeting. Our client suggested that the group go to dinner together in Manhattan Beach as a way to enjoy the Southern California experience with the picturesque Manhattan Beach pier visible from the restaurant and the warm weather.
The group enjoyed dinner and a few drinks before heading back to their hotels. Our client decided to stay in a bar to enjoy the end of a particular sports game, he believes a Dodger game.
As the game continued on, our client continued drinking. The game went into extra innings and our client matched the extra innings with extra drinks. Finally, the game ended and our client realized he had drunk far too much.
He decided to try to sober up by walking around and headed down toward the Manhattan Pier, where he was pestered by a homeless man asking for money. Our client politely told the man no, that he would not give him a dollar. The homeless man then pulled out what our client believed was a knife (it was about 2:00 a.m. at this point) and our client stepped back several steps to avoid any fight.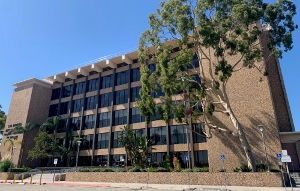 Torrance Courthouse

The homeless man told our client what a terrible person he was for not giving him money and our client walked away. The homeless man followed our client up the hills back towards the bars and restaurants, away from the Pier area.

Our client then called 911, reporting that a homeless man had brandished a knife at him and was following him toward his car. Our client described his location, but did not want to stop walking for fear that the man with the knife would eventually confront him again.
Police arrived at the location in seconds, as they were nearby on foot. They did not see any homeless man, but they found our client, shirtless and obviously drunk. Police reported that he could barely stand up. They asked our client a few questions and determined our client was far too drunk to be on his own. They concluded that he had not been confronted by a homeless man, let alone with a knife, as it was unusual for a homeless person to follow someone up into town.
For his own safety, they claimed, Manhattan Beach Police arrested our client for public intoxication, a violation of Penal Code § 647(b). Our client then spent the next ten hours in the Manhattan Beach jail sobering up before being released after signed a promise to appear in the Torrance Superior Court in a few weeks.
The client did nothing in response to the citation until the day before the court appearance. On that day, he called Greg Hill & Associates and spoke to Greg. The client explained what had happened and how he was on informal (or summary) probation for a DUI conviction out of the Airport Courthouse just three months earlier. The client also had one more alcohol-related conviction from a few years earlier.
Greg responded that the client's being on probation for DUI would most likely be known by the Torrance prosecutor. In public intoxication cases from Manhattan Beach, the Torrance District Attorney would be assigned to the case. Greg explained that he would try to resolve the case for an infraction for disturbing the peace (Penal Code § 415(2)), but such a plea bargain may come with many Alcoholics Anonymous (AA) meetings, a high fine and perhaps even some community service. The client responded that this was perfectly fine, as he needed to avoid a further misdemeanor conviction for work.
Greg then appeared at the arraignment for the client the following day. Greg did not have any documentation of our client having attended any AA meetings prior to the arraignment as he usually brings to court on such a case when the client contacts us earlier.
The District Attorney handling the case was well aware of our client's DUI out of the Airport Courthouse and therefore the initial offer was a plea to Penal Code § 647(f) as a misdemeanor with three years of informal (summary) probation, a $300 fine (plus penalties and assessments that would boost the total owed to about $1,400, payment of the City of Manhattan Beach booking fee of $259 and to stay away from the downtown Manhattan Beach area while on probation.
Greg discussed the case with the prosecutor and pointed out that our client was the one who called 911 and therefore, this demonstrated he was aware of caring for his own well-being and that of others who might be affected by a possibly dangerous homeless person armed with a knife and following our client. Greg also described the client's educational history, his work and his generally responsible nature.

The prosecutor then agreed with Greg to resolve the case for an infraction for disturbing the peace (Penal Code § 415(2)) if our client attended 52 AA meetings in the next six months and paid the City of Manhattan Beach booking fee. The client was extremely happy with this resolution of his case.

For more information about public intoxication issues, please click on the following articles: