Los Angeles, Probation Violation for Unpaid Child Support
Our client, age 63, was charged in Los Angeles Superior Court with a misdemeanor probation violation arising out of a prior criminal case he had in the same court over disobeying a court order to pay outstanding child support. Our client's son, age 18, was a promising basketball player on full scholarship at a Division III program.
Overview: Los Angeles – probation violation (Penal Code § 166(a)) for failure to pay child support, client faces driver's license suspension, client reinstated on probation.

What made the case tremendously problematic for our client was that the District Attorney assigned to our client's case wanted to revoke probation and suspend his driver's license, which would have had devastating effects on his ability to work unless he just continued driving on a suspended license. The prosecutor did not seem to understand that our client could never pay the overdue child support unless he worked, so the punishment she sought was counterproductive.
Greg Hill handled the case at an extremely reduced fee because of the tremendous price our client paid personally during the Vietnam War. Our client served in the U.S. Army as an enlisted man. He was a survivor of the notorious My Lai Massacre, a 1968 incident wherein U.S. forces under Lieutenant William Calley killed between 347 and 504 unarmed South Vietnamese civilians. Twenty-six soldiers were prosecuted for the murders, but only Calley was convicted. Allegedly, Calley ordered the killing out of frustration with the war and often said, "The only good kook is a dead kook," which included South Vietnamese civilians, who the U.S. was fighting alongside.
It was a major embarrassment to the U.S. military and all of those involved. The press here was very critical of this event. In fact, it is an event that will perhaps always live in infamy within the U.S. military.
Our client's experience in the massacre left him unable to cope with much of modern society once he returned from Vietnam. Consequently, he was wracked by severe post-traumatic stress disorder (PTSD) and repeatedly hospitalized through the Veteran's Administration (VA) for the next 43 years.
Greg Hill, a former Marine, had tremendous sympathy for the other veteran, so he offered to represent him at a reduced fee. Greg feels it is a way he can give back to other veterans who may have had a tough time reintegrating to society, especially after serving in combat. Indeed, it can be a tremendous culture shock to return to "the civilian world," as this client epitomized.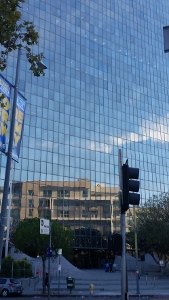 Central Civil West Courthouse in Los Angeles

Greg was able to negotiate with the District Attorney to allow our client to remain on probation so that he could maintain his driver's license and continue to earn the money he needed to make the past due child support payments. It was not easy, as the District Attorney seemed to take a particular – almost sadistic - interest in this case, despite our arguments that the mother of the child was a wealthy landlord in New York City earning more than the prosecutor herself and the child was now nineteen years old, on full scholarship and working.
The prosecutor also had no idea what the My Lai Massacre was and how our client had paid a very high price for his service to our country. She did not care about this at all. She was young, arrogant and ignorant.
Greg Hill then spoke with the District Attorney's supervisor to preserve our client's driving privileges.
The talk seemed to work, as the supervisor improved the plea bargain. Our client was then placed on two years of diversion, during which time he had to periodically appear in court to show satisfactory progress on paying down the principal outstanding of the child support.
During this time, our client lost his job and Greg helped our client find new employment, which was secured, and our client was able to remain on diversion. After two years, probation was finally terminated and the criminal case was dismissed.
All along, the client maintained his driving privileges, which was the goal, so he could continue working or look for work. This was necessary so that our client could pay off the delinquent child support owed, which he eventually did.
For more information about the issues in this case summary, click on the following articles:
Contact us.