Los Angeles, Driving on a Suspended License, Client in NYC
Our client tried to get a driver's license in New York City, but was told he had a hold on his California license. New York consequently refused to issue him a license. This was a big problem for him, as his job required that he have a New York driver's license.
In 50 Words or Less: Downtown L.A., driving on a suspended license, client in New York, bench warrant recalled and case resolved for fine and summary probation.

Our client contacted us to resolve the hold on his California license. The client spoke with Greg, explaining that he had no idea why California could assert such a hold on his California license. Greg asked him whether he had been on probation here in California or missed any court appearances ever. The client answered no to both questions.
After researching his driving record with the DMV, we found an outstanding bench warrant for his arrest. He had been charged five years earlier for driving with a suspended license, which is a misdemeanor violation of Vehicle Code Section 14601(a). He then failed to appear at his arraignment in the downtown Los Angeles Metropolitan Court (1945 South Hill Street), resulting in the bench warrant being issued.
The license suspension under § 14601(a) is for a conviction for reckless driving (Vehicle Code § 23103), reckless driving with bodily injury (§ 23104) or reckless driving that causes specific injuries such as broken bones, loss of consciousness, a concussion, serious disfigurement, etc. (§ 23105)
The punishment for a first time violation of this section is a mandatory five days in county jail, up to six months maximum, and a minimum fine of $300 (plus penalties and assessments that will make the total owed close to $1,400), up to a maximum of a $1,000 fine, plus penalties and assessments.
In other words, such a license suspension follows a conviction, a conviction our client denied ever happening.
Greg called the client to ask him about this because it was possible that someone else had fraudulently used his license while he was in New York. The client then recalled that he was once stopped by police for DUI while in the downtown Los Angeles area, late at night, but was told by the police that the DUI was dropped. This story was a bit confusing, but it could have been possible, Greg explained, for the prosecution to proceed on a reckless driving charge. However, the client would have been aware, most likely, of the reckless driving conviction, as he would have had been on probation.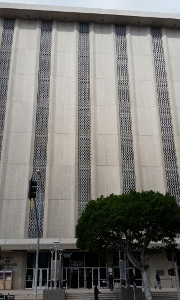 Metropolitan Superior Courthouse
Greg Hill first had the warrant lifted without having the client appear from New York, which was not difficult.
Greg Hill then negotiated a plea bargain for our client in where the client agreed to plea no contest to driving with a suspended license in exchange for three years of summary probation, a $100 fine and an assessment to the fine, which he was given twelve months to pay. Greg was well aware of the minimum five day county jail requirement, as well as the $300 fine, but the prosecutor did not seem to know these minimums. Neither did the judge. On rare occasions, this type of "below the minimums" plea bargain is entered.
Had our client fought his case at trial and been found guilty, or even rejected the offer made, he faced a maximum of six months in county jail (in California no less).
For more information about driving on a suspended license and a bench warrant, click on the following articles: