Long Beach, Urinating in Public, Infraction and $25 Fine
The Pine Avenue area of downtown Long Beach can be a raucous area at night on weekends. For our client, age 41 and out with colleagues while in town for a professional conference at the Long Beach Convention Center, it was a little too lively.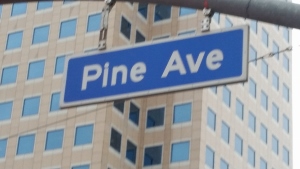 As he sat in a bar enjoying his last beer, with closing time just 30 minutes away, a fight broke out. The bar staff hustled everyone out the door to make sure the fight did not spread to involve any more people.
Our client found himself standing on the sidewalk and unable to enter any of the other bars, which he needed to do because he wanted to use a restroom. None of the bars along the street, however, allow people to enter within thirty minutes of closing time, especially when such folks were coming from a bar where there was a fight. They could be hiding from police in another bar.
Police swarmed the area of the bar with the fight to ensure the fight participants were detained and witnesses interviewed. At the same time, our client decided to relieve himself in a nearby alley, just as a police officer walked around the corner.
While the police officer was responding to a crime where there were possibly injured people, perhaps some with serious injuries, he could not pass up the opportunity to issue a ticket for urinating in public. Apparently, this was more important to him at the time than possibly preventing a felony or helping give aid to someone who was injured.
What to Take Away: Client ticketed for public urination, a misdemeanor, in the Pine Avenue area of downtown Long Beach. Client hires Greg Hill & Associates. Greg Hill goes to court and resolves misdemeanor case for an infraction (no probation) for disturbing the peace (PC § 415) and $25 fine. Misdemeanor dismissed.

The officer opened up his ticket book at asked for our client's driver's license. He then asked our client if he knew it was against the law to urinate in public. Our client was drunk, but still aware enough to realize this officer was missing the more urgent need for law enforcement. Nevertheless, our client was mindful of the respect officers must be given, so he obediently responded.
Our client was issued a misdemeanor citation for violation of Penal Code section 372. As he lived in another state and was unsure of how the case would proceed, he called our office.
While it is rare, a prosecutor can require one to register as a sex offender under Penal Code section 290 if one is convicted of urinating in public, especially if the fact really suggest more of an indecent exposure offense. Were this to happen to our client, it would devastate him, as he had a successful career and a family with two young children.
Our office therefore contacted the city prosecutor and explained the circumstances of the incident. The Long Beach City Prosecutor patiently listened, seemingly sympathetic to the plight of our client.
We were pleased to find that our client was charged with an infraction for disturbing the peace (Penal Code section 415) and the plea bargain involved a mere $25 fine, plus penalties and assessments (bringing the total amount due to $224).
Our client was very happy to have the case resolved as an infraction, rather than a misdemeanor, as a misdemeanor would show up on his publicly accessible record, but an infraction, once paid, will not. Our client quickly paid the $224.
For more information about the issues in this public urination case summary, click on the following articles:
Contact us.