Long Beach, Public Intoxication, On Probation for DUI
Our client, age 30, went out with friends to the Belmont Shore area along East Second Street, which has many inviting bars and restaurants.
Our client had been to the area many times. It was a warm, Santa Ana wind-warmed evening in late fall.
As the weather was inviting and both college and professional football seasons were in full swing, there were a lot of bars showing college games on this particular Saturday evening.
Our client had consumed many beers and was waiting for an Uber for a ride back home to San Pedro. He had apparently given the Uber the wrong pick up location and the Uber driver gave up on finding our client. Our client had waited and waited for the Uber driver, but the Uber driver told our client to get another ride.
In frustration, our client started banging his fists on the side of a passing Long Beach Transit bus that was momentarily stopped at a traffic light. Our client had walked into the traffic lanes, while raging with frustration, and pounded with both fists on the right read side of the bus.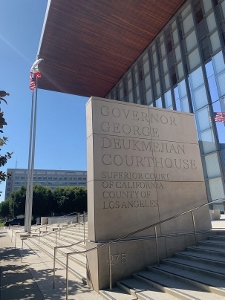 Airport Courthouse
The bus driver mistook the banging as a signal that she had run into someone, most likely a drunk pedestrian given the early morning hour that coincided with the bars closing. She therefore called the police to request assistance in handling the pedestrian, our client.

Police arrived and found our client at the same location, trying to call a traditional taxi for a ride.
When police approached our client, our client tried to walk away, but was allegedly so drunk that he staggered one step forward and one step to the side and fell literally into a large trash can. Embarrassed, our client picked himself out of the trash can and yelled at police that he was not doing anything illegal.

When police got close to him, our client again tried to walk away, allegedly spitting toward the police over and over. Our client again walked into East Second Street and was in danger of being hit by a car.
Police quickly detained our client and placed a spit mask over his head, which greatly angered our client. He told the police they were arresting him because he was Mexican and that all police hated Mexicans. He even tried to spit on the police through the spit mask and could not stand up.
Police took our client into the Long Beach Police Department and booked him for public intoxication, a violation of Penal Code § 647(f). He was held overnight and then released on his own recognizance the following morning after signing a promise to appear in the Long Beach Courthouse in a few weeks.
The client, who Greg had represented in a DUI in the Torrance courthouse after he was arrested in Palos Verdes Estates, called Greg Hill & Associates a few days later. The client explained the facts of the case to Greg and asked how we could have the case reduced to an infraction or even dismissed.

Greg knew the client was still on probation for the DUI and since this was an alcohol-related event, he was concerned that the Long Beach City Prosecutors might be extremely tough on him. Greg recommended that the client attend at least ten Alcoholics Anonymous (AA) meetings prior to the arraignment, which the client dutifully did and provided Greg the sign-in sheet to take to the arraignment.
Greg also asked for a resume from the client, who worked as a seaman for a Navy subcontractor out of San Diego, working on Navy ships in the harbor. It was a solid job that our client had held for many years and enjoyed.
The young Long Beach City Prosecutor at the arraignment looked through the police report and noted our client's "violent outburst" and his being on probation for DUI out of the Torrance Courthouse. The initial offer was to have to plea to the misdemeanor and in exchange, our client would be placed on three years of summary, or informal probation, but be obligated to serve 30 days of county jail or perform 20 days of Cal-Trans labor, plus pay a fine of $250, plus penalties and assessments (total owed would be about $1,300).
Our office and the client were shocked at this initial offer, but Greg advised that since the case was being transferred to another department for the first pre-trial and there would be a different, more seasoned prosecutor there, the offer would likely improve to something more realistic. Greg recommended that the client attend more AA meetings and given Greg the updated and current AA sign-in sheet for the next appearance.
Just before the next appearance, our client gave Greg his updated AA sign-in sheet with 40 AA meetings completed. Greg took this to the first pretrial hearing and showed the more senior Long Beach City Prosecutor, who then agreed to amend the complaint to allege an infraction for disturbing the peace (Penal Code § 415(2)), to dismiss the public intoxication misdemeanor, and have the client pay a $50 fine, plus penalties and assessments, or perform 11 hours of community service.
The client was very happy with this outcome and pleased with Greg's advice not to panic after the arraignment, but continue to attend AA meetings, which was rewarded.
For more information about public intoxication, please click on the following articles: