Long Beach, Possession for Sales, on Probation, Program
Our client, age 26, had an extremely long criminal history that made an otherwise quite minor case much more significant.
Summary: Long Beach, possession of a controlled substance (Health & Safety § 11350(a)); on probation from Riverside County; lengthy history; residential treatment program ordered.

The client was stopped by the Long Beach Police Department for riding a bike on a sidewalk without a horn. When police make contact with him, they suspected he might be on probation, so they asked him about this. The client responded that he was, so the officer asked to search his backpack.

The backpack contained a black bag with eight plastic bindles that contained a total of 1.5 grams of cocaine. His backpack also contained $279 in small bills, which is often evidence of drug sales.
The client was on probation for a drug conviction out of Riverside County and an earlier case for possession of a firearm by a felon, which was out of Los Angeles County.
When the client was arrested for the horn violation, a violation of a Long Beach municipal code section, he was released with a promise to report to probation within 48 hours.
Two months later, the client still had not reported to probation. His two probation violations were now snowballing into a bigger case, made more so due to his prior criminal history reaching back to age 13. His history included grant theft auto, sales of a controlled substance, multiple speeding tickets, one DUI, four possession of marijuana convictions and the above two convictions mentioned earlier. He had already served two stints in person and several brief jail terms.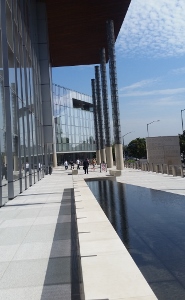 Governor George Deukmejian Courthouse
(Long Beach Superior Courthouse)
The DA in Long Beach looked at the client's criminal history and wanted a four year prison sentence. Our client was also facing an AB109 violation (technically post release community supervision, not probation), wherein the prosecutor wanted our client to serve 180 days.
Greg was hired by the client's mom, who wanted her son to be sent to a drug treatment program now. Greg listened to the mom describe her son's drug addiction problems and how her son had never been in such a program. Greg explained that her son may not be eligible due to his criminal history and his two probation violations, but that he certainly would try for such a program. The mother then gave Greg the name of a Downey program she found that agreed to accept her son.
Greg telephoned the Long Beach District Attorney and discussed a drug treatment program. She adamantly refused to agree to such a program even if the client were to agree to a plea bargain of a program followed by a joint suspended sentence.
The next week in court in Long Beach, Greg asked to approach the judge with the prosecutor. The three discussed the case facts and the client's criminal history. Greg showed the judge the information concerning a drug rehabilitation program in Downey that had accepted our client if he were to be ordered to such.
The judge looked at the file some more and said she would sentence our client to five years formal probation with eight years joint suspended hanging over him if he completed a one year treatment program through the Delancey Street Foundation only. The prosecutor was quite mad at this offer, feeling undercut by the judge.
Greg then contacted the Delancey Street Foundation, discussing our client's criminal history. The program said his history was not disqualifying, but they needed to perform a screening interview with him first at the jail. They said they also needed a letter from him explaining why he wanted treatment.
Our client was not a high school graduate and had a very difficult time writing anything. Greg thus went to the jail and helped him write such a letter and gave him a pre-addressed, stamped envelope to mail it to the program.
To our client's credit, the program's interview was successful and he was accepted to the Delancey Street Foundation.
The AB109 court on Bauchet Street then agreed to run the 180 days in county jail offer concurrent with the joint suspended sentence imposed by the Long Beach Court.
The client was released to the Delancey Street Foundation from the Bauchet Street Court.

The client and his family were extremely happy with the resolution of the case.
For more information about the issues in this case, click on the following articles:
Three Month Lapse Between Arrest and Probation Violation Hearing Does Not Violate One's Right to a Timely Hearing
Watch our Video about Drug Offenses by clicking
here
.
Contact us.