Long Beach, Military Diversion for a DUI and Dismissal
Our client, age 27, had served eight years combined in the Army and the Navy. He had served in combat and suffered from major depression.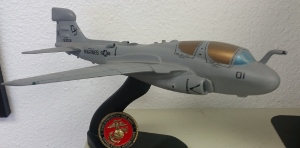 Marine EA6B Prowler
On New Year's Eve, he was returning from a get together and his car inexplicably lost power. He had plenty of gas, but for some mechanical reason, he found himself coasting to a dead stop in lane one of the southbound 405 Freeway at 1:45 a.m.
In 30 Words or Less: Client, a Navy veteran, files motion for imposition of military diversion under Penal Code § 1001.80 to resolve a DUI filed in Long Beach Superior Court. Court grants the motion. Client avoids a conviction for a DUI and avoids almost $2,000 in court fines.
Before he knew it, he was hit from behind, fortunately not too hard at all. The CHP showed up and noticed the odor of alcohol (actually alcohol itself is odorless). The officer then immediately asked our client to perform a series of field sobriety tests, which for even a sober person who had just been rear-ended would be tough, as they involve balance. According to the CHP report, of course, our client failed all of them.
The officer then asked our client to submit to a preliminary alcohol screening (PAS) test, which our client refused, but said he would submit if asked at the police station.
The CHP officer then did arrest our client and transported him to the Long Beach Police Department, where our client submitted to a breath alcohol test which measured his blood alcohol content (BAC) at 0.17%, or just above twice the legal limit.
After our client sobered, the police allowed our client to leave by signing a promise to appear in the Long Beach Courthouse in about two months.
The client was confused and wondering what this meant for his future. He looked online and found Greg Hill & Associates. He said he hoped to speak with Greg, as Greg was a Naval Academy graduate and the Client was a former Navy guy.
The client called and Greg listened to the client describe what had happened. Greg explained that just recently, the California legislature had passed a new military diversion law that even applied to DUI, as confirmed by a recent case involving a guy named Hopkins. Greg had written an article on the case, so he sent it to the client.
In a nutshell, Greg said he would ask the judge in Long Beach Superior Court to grant the client military diversion under Penal Code § 1001.80. The client had to provide Greg his DD-214 and some proof of suffering from a mental or psychological disorder that was service-related (i.e., PTSD, depression, anxiety disorders, or addiction).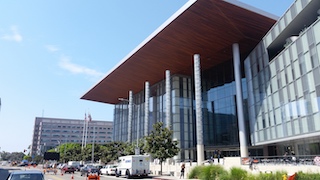 Long Beach Courthouse
Greg then did file the motion and the judge in Long Beach granted the motion, placing our client on pre-plea diversion wherein the judge ordered our client to enroll in and complete an approved AB541 three-month alcohol awareness program (usually a nine-month program is called for with a BAC of 0.17%) and to continue his counselling at the Veteran's Administration for his major depression.
That was all that was ordered. The client did not have to pay the court fees and fines customary of someone convicted of DUI because he was not convicted of DUI at all. So he saved at least $390, plus penalties and assessments (total of about $1,900) and did not have to pay a booking fee either.
Most importantly, after two years, his case would be dismissed if he complied. He did not even enter a "no contest" plea with delayed entry of judgment. The military diversion program, in contrast, is a delayed entry of plea, which is the best form of diversion.
The client was very happy he had hired Greg Hill & Associates.
For more information about military and veteran diversion issues, please click on the following articles:
Contact us.