Diversion Programs in California for Armed Forces Veterans
Under California Penal Code §§ 1001.80 and 1170.91, current and former members of any branch of U.S. military may be eligible for "alternative sentencing" that regular civilians or non-veterans cannot enjoy.
Some judges now announce this option when they first take the bench in the morning and invite anyone so qualified to complete and file a MIL-100 form to put in the court file so that the judge is reminded of this at sentencing later.
Brief Synopsis: There are two main "diversion programs" available for military veterans or active duty servicemen (and servicewomen) facing a criminal complaint in California. Penal Code § 1001.80 is true diversion prior to a conviction and it is only for misdemeanor offenses (it even applies to DUI). Penal Code § 1170.91 military probation is more for having a military member receive treatment after a conviction instead of being ordered to prison, but it does not apply to sex offenses.

The veteran does not need an honorable discharge to be eligible for such programs. Likewise, the veteran or the current service member does not need to be first accepted to Veteran's Court to be eligible. The veteran does not need to have combat service at all.
To be eligible, the current service member or veteran must suffer from sexual trauma, traumatic brain injury, post-traumatic stress disorder (PTSD), substance abuse or mental health problems as a result of military service. The judge can consider other sources of trauma and mental illness in mitigation as well, especially those that may have been suffered before joining the service (unlikely) or after being discharged (more likely).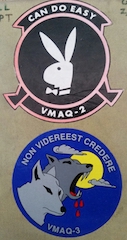 VMAQ-2 and VMAQ-3 Stickers
To show one does suffer from one of the required conditions as a result of military service, the defendant should show medical records from any type of medical exam at time of separation, as well as one's DD-214. The medical records will usually note such a condition and the percentage of disability this is rated at, i.e. from 0 to 100%.
When someone did serve in the U.S. military, but lost their DD-214, he or she can request a duplicate through the United States National Archives and Records Administration at http://www.archives.gov/veterans/military-service-records or at the VA Long Beach Community Resource and Referral Center at 888 West Santa Ana Blvd., Suite 150, Santa Ana, CA (844) 838-8300.
Penal Code § 1001.80 covers the misdemeanor diversion program in California. The defendant must agree first of all to waive his right to a speedy trial. The judge can then order the defendant into a suitable federal or community-based treatment program for up to two years in place of time in custody. As long as the service member or veteran performs "satisfactorily," the court has the power then to dismiss the case and thereby allow the defendant to avoid a conviction.
While in the program, the court must conduct progress hearings at least every six months to monitor the defendant's progress, cooperation and commitment to treatment. If the judge concludes that the defendant is not benefiting from treatment, he or she can end diversion and prosecution can continue as before diversion was ordered.
If defendant completes the program successfully, "the arrest shall be deemed as if it never occurred" Penal Code 1001.80(i). The defendant must only disclose it if applying to become a police officer.
To request this program in a misdemeanor court, defendant or his/her attorney should file and serve a petition or Motion for Imposition of Diversion under Penal Code § 1001.80. Attachments to the motion must include proof that the defendant is a veteran or current service member and that he or she has been medically diagnosed as suffering from one of the required mental health conditions as a result of military service (it is "service-related"). We find it is best to suggest a specific federal or local treatment facility, too, so the judge does not have to find one.
Under Penal Code § 1170.91, a current service member or veteran facing a felony is entitled to serve custody time in a treatment facility and receive credit for time served while in treatment. Penal Code 1170.91(e). In contrast to the § 1001.80 program, this program for felonies is not technically diversion, as the person must be convicted to receive such benefits.
The 1170.91 program does not apply to all felonies. For example, it does not apply to someone convicted of violating Vehicle Code § 42002.1 ("Failure to Stop for a Police Officer"), Penal Code § 261.5 ("Statutory Rape"), Penal Code § 286 ("Sodomy"), Penal Code § 288 ("Lewd or Lascivious Acts with a Child"), 288a ("Oral Copulation with a Minor Child"), 288.5 ("Continuous Sexual Abuse of a Child"), 289 ("Forcible Sexual Penetration with a Foreign Object") or any offense that requires registration as a sex offender under Penal Code § 290.
To request consideration for the 1170.91 program, defendant and/or his /her attorney should file a request for consideration of sentencing under Penal Code § 1170.91 with all supporting documentation like that suggested above for a 1001.80 program, along with a specific VA or federal program.
We suggest having a representative of the program present in court at the hearing of either program to transport the defendant to the program directly from the courthouse.
Greg Hill & Associates has a personal interest in seeing each veteran eligible for such programs apply for such beneficial treatment, as Greg himself is a combat veteran, having served in Operation Desert Storm with the U.S. Marines Corps. Greg flew 35 combat missions in Desert Storm and was awarded three Air Medals, two of which were adorned with the Combat-V for conspicuous valor. He resigned his commission as a captain in 1994 and thereafter headed off to law school.
For more information about veterans issues and diversion in general, please click on the following articles:
Contact us.