Long Beach, Grand Theft (PC 487) of a Generator, Probation
Our client, age 24, had three prior felony convictions and two prior misdemeanor convictions, mostly for offenses related to being under the influence of alcohol and/or drugs, i.e. possession of a controlled substance, possession of drug paraphernalia, receiving stolen property, petty theft and being under the influence of a controlled substance.

The Gist of This Case Summary: Client, age 24, with a lengthy criminal history related to drugs and petty theft caught stealing a generator at the Long Beach Veterans Administration property. He was charged with felony grand theft. Initial offer from the DA was two years in state prison. Case resolved for no custody and three years formal probation.

In addition, he had been arrested or detained on over a dozen additional crimes, but not charged due to insufficient evidence. He had sixteen tattoos on his body. At age 24, he was heading nowhere fast and his parents were losing patience with him.
While 24 in 2014, our client was arrested at the Long Beach Veteran's Administration in broad daylight as he was sitting atop of large spool for industrial cable. He was arrested for trespassing (Penal Code § 602), a misdemeanor, but later charged with felony grand theft (Penal Code § 487(a)) of a generator from a construction site on the VA property. At the time, he did not have a generator with him. No generator had been reported stolen. In our client's backpack was about ten "burglary tools," but nothing else. A VA bus driver had spotted our client and called the VA police.
The link from a stolen generator to our client was not as tenuous as the preceding paragraph may sound. About three months earlier, an employee of a construction company engaged in building on the Long Beach VA property reportedly found a fence had been cut and that an attempt was made to cut a cable securing a Honda generator that was valued at $1,400. It is unclear who valued the used generator and whether it was the same generator at issue later. Our client was not identified as the suspect who cut the fence. Someone, however, did so.
About a month later, at the same construction site, a foreman reported to work at about 6:00 a.m. and found our client loading a generator into the back of his truck. At the time, the sun had not yet risen. The foreman stopped our client and our client apologized profusely. Our client then unloaded the generator, again apologizing. The foreman told our client to leave ASAP and he would not call the police, so our client thanked him and left.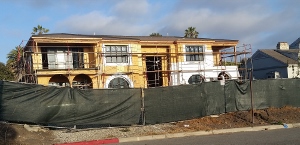 Construction Site
Fast forward to our client sitting on a large spool for industrial cable at the VA. When the police arrested our client, they linked him up to the attempted theft of the generator and then spoke to the construction foreman, who described what had happened. Our client admitted to the theft of the generator in writing and was allowed to leave with a promise to appear in the Long Beach Court in about two months.
The VA police then reported the incident to the Long Beach Police Department, who took a report and recommended prosecution. The Long Beach District Attorney's office then filed a case, but never notified our client.
When our client did appear on the date he promised to appear, no case had been filed. Our client thought that was the end of it and if a case were filed, he assumed the court would notify him. The court did not notify him.
Almost three years later, our client was notified by his employer that a bench warrant existed for him in Long Beach. At this point in his life, our client had completed a residential drug treatment program, married, had a young son and was clean and sober for the first time since being a teenager. He was paying taxes and working 60 hours a week.
So with a heavy heart, he returned to court to find out about the alleged grand theft of a generator. He remembered this and was shocked when the prosecutor told him, due to his prior record, that her plea bargain was two years in state prison. He called Greg Hill & Associates.
Greg immediately met with the client and his father and substituted in on the case. He prepared a Defense Position Letter and had the client's father gather up almost twenty letters of recommendation for his son. Greg then gave the Defense Position Letter and mitigation packet to the Long Beach district attorney.
The prosecutor reviewed the letter and improved the plea bargain to simply felony probation for three years – no prison or even county jail time. Moreover, there were no terms of probation, other than for our client to report to his probation officer. The client was overjoyed, as he did not want to leave for prison with his young child and new wife left behind.
The client looked forward to completing probation and having the felony reduced to a misdemeanor and then expunged.
For more information about grand theft issues, please click on the following articles:
Contact us.