Prop 47 Relief Denied on Grand Theft Conviction – Why?
Since 2014, when voters approved Proposition 47, most of the questions our office answers relate to which felonies are eligible for resentencing and how to petition the court to do so. Lost in the conversation is whether the past or subsequent criminal history of the individual disqualifies relief to the felon.
The Reader's Digest Version: A judge may deny Prop 47 relief when a person seeks to have a felony grand theft conviction reduced to a misdemeanor if the judge determines that doing so would pose an unreasonable risk to public safety, which the following case summary exemplifies because defendant had ten prior felony convictions (including two strikes) and had served five prior prison terms.

Indeed, under Prop 47, the court may deny relief if, in its discretion, it determines that resentencing the petitioner would pose an unreasonable risk of danger to public safety. This is provided for at Penal Code § 1170.18(b);
People v. Bush
(2016) 245 Cal.App. 4th 992, 1001.
"Unreasonable risk of danger to public safety" is defined under Penal Code § 1170.18(c) and subdivision (b) lists factors the judge must consider in whether resentencing would pose an unreasonable risk to public safety. As a practical matter, the danger that results upon resentencing is if the felony is reduced to a misdemeanor and the individual may be released from prison. For example, he or she may be serving a five year prison sentence and be thirteen months into it. If given Prop 47 relief, the individual most likely will be released to the public.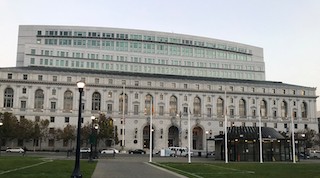 Court of Appeal First Appellate District San Francisco
The term "unreasonable risk to public safety" means an unreasonable risk that the individual will commit a new, violent felony within the meaning of Penal Code § 667(e)(2)(c)(iv). The critical injury is not whether the risk is quantifiable, but rather, whether the risk would be unreasonable.
In evaluating this risk, the court may consider the individual's criminal history, including the type of crimes, the extent of injury to victims, the length of time of prior prison commitments and the remoteness of the crimes. The court can also consider the petitioner's record of rehabilitation. Lastly, it can consider "any other evidence it determines is relevant in deciding whether a new sentence would result in unreasonable risk of danger to public safety.
Applying this law to Norman Hall's petition for resentencing, the trial court denied his request to have his conviction for grand theft (Penal Code § 487) reclassified as a misdemeanor because it found that doing so would pose an unreasonable risk to public safety. Hall appealed and the First Appellate District affirmed the trial court (2016 DJDAR 5408).
One must look at the facts of the 487 case and Hall's prior criminal history to understand the ruling. In the early evening hours, but still light out at 6:30 p.m., Danielle Sinclair was walking along the street when she noticed Hall was following her. Sinclair was homeless.
Hall repeatedly said "Hey baby" and the finally came up to her and demanded her purse. When Sinclair did not respond, Hall pushed her into a parked car and pulled out a knife, pushing it into her abdomen. Hall then said he would stab her if she didn't give him her purse.
Eventually, Hall ripped the purse from Sinclair's shoulder and ran away. Hall was arrested while running away, carrying the purse.
Hall was charged with second degree robbery (P.C. § 211), with an enhancement for personal use of a deadly weapon (Penal Code § 12022(b)(1)). It was further alleged that Hall had ten prior felony convictions and had served five prior prison terms. Two of the prior convictions were "strikes" for purposes of the three strikes law.
In exchange for dismissal of the robbery and all other special allegations, Hall pled to the less-included charge of grand theft from a person (Penal Code 487(c)) and admitted two prison priors. It was then agreed that he would be sentenced to five years in state prison (upper term of three years on the 487, plus one year for each prison prior).
After Hall went to prison in 2013, Prop 47 was passed in 2014 and Hall filed a petition to reduce his felony conviction to a misdemeanor. The prosecutor opposed the petition noting he essentially threatened to kill Sinclair to complete the crime. The court then looked to Hall's criminal history, characterizing it as "nearly two decades of regularly engaging in serious criminal behavior that has become increasingly violent."
Moreover, Hall had numerous opportunities to reform, "but has made no serious efforts." In 2012, Hall also committed a robbery wherein he also threatened to kill his victim.
The court said it could not limit its discretion to denying relief to those petitioners who have already committed a "super strike," as listed under Penal Code §667(e)(2)(c)(iv), without construing subdivisions(b) and (c) of 1170.18 as meaningless extra words.
We think this specific ruling is legally and factually correct, however, we worry that the appellate court is getting itself on a slippery slope of using judicial discretion in a way that must be disciplined.
The citation for the First Appellate District Court ruling discussed above is People v. Norman Hall (1st App. Dist., 2016) 247 Cal.App.4th 1255.
For more information about , please click on the following articles:
Contact us.