Long Beach Felony Domestic Violence, Priors, Probation
Why This Summary Matters: The initial plea bargain offered by the DA was three years in state prison in the following felony domestic violence and burglary case in Long Beach. Our Defense Position Letter reduces offer to no prison (or even jail) and five years of probation with an agreement to reduce the domestic violence charge to a misdemeanor if our client completes probation.

Our client, age 38, had a prior felony for auto burglary from when he was 19 and had a history of minor domestic violence, but never a conviction for domestic violence.
Recently, his wife of 19 years began regularly and openly seeing a guy who she regained contact with from her days in high school. Our client was told not to worry because he was gay, but our client believed this old friend was not gay and that his wife intended to leave him and their four kids, ages 16, 15, 3 and 1.

Our client owned and operated a furniture moving business, but business had been rough lately and one of his delivery trucks was stolen, so he was struggling financially to support the family on top of all of this. His wife worked two or three days a week for a few hours per day at a hair care retail business.
On the evening after he and his wife had argued over the phone during the day, he was told not to come home.

But he did and when he arrived home at about midnight after working an extremely long and exhausting day, he found all the doors in the house locked to keep him out. He found this suspicious. He did not have a key. So, our client pushed his hand through an open window to open up his back door. He suspected his wife was there with the other man.
Once inside, he asked his wife why she had been trying to prevent his entry into the home. She did not answer and he accused her of having an affair. She attempted to punch him first, but then our client moved away and then reached out for her, strangling her by her neck for just a few seconds, before letting go. The couple's sixteen-year old daughter heard the argument and called the police.


Our client was then arrested for felony domestic violence (Penal Code § 273.5) and residential burglary, a strike, made only more painful because it was his own house he entered by force and then committed a felony therein.

After being released on bail the next morning, the client called Greg Hill & Associates based on a referral from a friend. The client and Greg discussed the case and what our client faced in the Long Beach Superior Court. The client advised Greg that the couple had a history of domestic violence that the police asked him about, apparently because the wife had described this to the police.
Greg recommended that the client seek marriage counseling, not because he thought the client needed it, but because of the beneficial effect it may have on resolving the case without prison.
The first offer from the People was three years in state prison.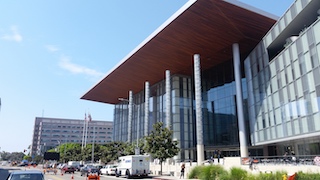 Long Beach Courthouse
Greg then prepared a Defense Position Letter, in which he described the client's difficult life. His father had been murdered when he was just one year old. His mom never remarried, as her mom had remarried after a similar tragic event to her father, only to enter into a miserable life. Our client's older brother had a difficult time in life with substance abuse and many prison stints, but our client had started his own business and prospered for almost twenty years.
He was the over-achiever, the one who looked after his mom, who was bedridden after a recent stroke. He was the one everyone looked to for strength, making this recent event all the more out of character for him.
The Defense Position Letter included over a dozen letters of support and photographs of the client's family and children. There were letters of support from our client's two teenage children.
The prosecution, in response, agreed to a probationary sentence wherein our client would serve no time in prison or jail, but be placed on five years of formal probation with an obligation to attend 52 batterers' classes, perform 60 days of PAWS (like community service), make a $500 contribution to a battered women's shelter, pay $370 in court fines and fees – and if he completed all terms in three years, the prosecution would agree to reduce the felony domestic violence charge to a misdemeanor and stipulate to expungement. The residential burglary charge was dismissed.
Our client was extremely happy with this resolution, as avoided three years in state prison and he could keep working and supporting his family, especially with two of his teenage children about to enter college.

For more information about domestic violence, please click on the following articles: