Evidence Code 1109 – How to Exclude Prior Domestic Violence
The Reader's Digest Version: To exclude prior uncharged acts of domestic violence from being admitted for a jury to consider, one should file a motion in limine if it is more than ten years old, if the conduct is quite distinguishable from the conduct at issue and if admitting it will affect defendant's decision to testify in court.

Generally speaking, character evidence is inadmissible to prove conduct on a specified occasion. Evidence Code § 1101(a). Character evidence is defined as "evidence of a person's propensity or tendency to act in a certain way under certain circumstances." People v. McAlpin (1991) 53 Cal.3d 1289, 1305, 283 Cal. Rptr. 382, 391.
However, when a person is accused of an act of domestic violence (or murder, depending upon the defendant's relationship to the victim), evidence of the commission of other domestic violence is not made inadmissible by Evidence Code § 1101(a)(1); People v. Jennings (2000) 81 Cal. App. 4th 1301, 1310, 97 Cal.Rptr.2d 727, 734. Evidence Code § 1109(a)(1).
Likewise, the prosecution may admit evidence of uncharged acts of elder or dependent person abuse in a prosecution for elder or dependent person abuse under Evidence Code § 1109(a)(1) and evidence of uncharged acts of child abuse in a prosecution for child abuse (Penal Code § 273d) under Evidence Code § 1109(a)(3).

However, an act of domestic violence, elder or dependent person abuse or child abuse occurring more than ten years before the charged offense is inadmissible unless admission of such evidence is determined to be in the interest of justice. Evidence Code § 1109(e).

To determine the interest of justice, a judge must weigh the probative value of a prior conviction against its prejudicial impact and preclude its use to impeach the defendant if the risk of prejudice outweighs any probative value. Evidence Code § 352; People v. Collins (1986) 42 Cal.3d 378, 389.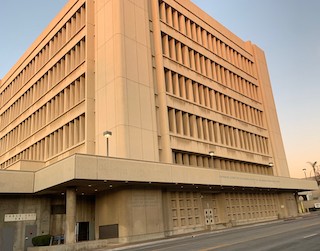 Inglewood Courthouse
Among the nonexclusive factors that a judge may consider in exercising its discretion to exclude evidence are whether the prior conviction is near or remote in time to the present offense, whether the prior conviction is for conduct similar to the present offense, and whether impeachment will affect the defendant's decision to testify. People v. Beagle (1972) 6 Cal.3d 441, 453.

Defendant can also argue that the evidence of prior domestic violence, elder abuse or child abuse is weak, admitting it will cause undue consumption of time, will mislead the jury or create a substantial danger of under prejudice. This is the first ground under which to exclude such prior evidence.
Second, defendant can ask the judge to exclude the evidence if the prosecution failed to give the defense notice of its intent to introduce other crimes evidence under Evidence Code § 1109.
A motion in limine by defendant is the proper way to ask for an order excluding such prior bad acts or prior conviction evidence. The court in which a case is pending that charges a prior conviction is the proper place to raise a challenge to the prior. People v. Sumstine (1984) 36 Cal.3d 909, 914 (challenging the prior is often called a "Sumstine motion").

Third, one can argue if true, that a prior conviction by a guilty plea is not constitutionally valid unless the record affirmatively shows that it was voluntary and intelligent under the totality of the circumstances. People v. Howard (1992) 1 Cal.4th 1132, 1175.
When a defendant has raised the constitutional validity of a prior conviction, "the court shall, prior to trial, hold a hearing outside the presence of the jury in order to determine the constitutional validity of the charged prior or priors in issue." People v. Coffey (1967) 67 Cal.2d 204, 217.

Defendant bears the burden of proving the constitutional invalidity of the prior conviction by a preponderance of the evidence. People v. Curl (2009) 26 Cal.4th 339, 351. However, defendant cannot rely solely on a silent record to establish a violation of any Boykin-Tahl rights (advisement regarding the direct consequences of a plea). Instead, defendant must affirmatively allege, i.e. through a signed declaration under penalty of perjury, that she was not aware of the rights at the time the plea was entered. Defendant must also allege that he or she would not have pled guilty had he or she been aware of such rights. People v. Cooper (1992) 7 Cal.App.4th 593, 597.
It is important to note that defendant cannot attack the validity of a prior plea on the ground of ineffective assistance of counsel (IAC), as distinguished from violation of the right to be represented by counsel, in the prior proceeding. Custis v. U.S. (1994) 511 U.S. 485, 114 S. Ct. 1732, Garcia v. Superior Court (1997) 14 Cal.4th 953.
The trial court "shall strike from the accusatory pleading any prior conviction found by constitutionally invalid." People v. Coffey, supra. This would thus prevent such evidence from being admitted for the jury to consider.