Long Beach, Felony Arson, Plea to Misdemeanor, Diversion
Our client, age 50 and a Navy vet who experienced some tough times after leaving the service, had forgotten to take his Atripia for his HIV. His doctor had warned him that it was very important to take it every day and that if he missed a day, to "double up" the next day.
In a Nutshell: Long Beach, client sets trash can on fire in apartment complex, charged with felony arson (Penal Code § 451(d)); our firm reduces charges to misdemeanor and resolves case for 1 year informal probation.

Following this advice, he took two Atripia tablets and immediately started feeling odd. He lay down, but felt like he was getting sick, so he decided to walk around. He went out his apartment and, because he was feeling quite odd, he forgot to take his key. He walked around, but the feelings only worsened.
He then started hearing noises and, when he returned to his apartment, realized he was locked out. He heard noises inside his apartment and believed someone was inside, committing a burglary. He was having a full-blown psychotic breakdown, with strong feelings of paranoia and anxiety. This is a known side-effect of an overdose of Atripia.
There were some people watching our client at this time. Our client believed they were helping the robbers, acting as lookouts. Our client decided against calling the police, as he believed the lookouts would shoot him.
Instead, he lit a trashcan on fire, to cause firemen to respond to the scene. Our client positioned the trash can next to the apartment's swimming pool and far away from any structure.
As our client hoped, the fire department did respond and our client was sitting next to the trashcan, pointing at his apartment door. He explained to the firemen his plan.
As it turned out, perhaps not coincidentally, our client's father was a fireman for twenty years, so the client called the firemen because he trusted firemen.
The firemen laughed at our client and called the police, who came and arrested our client. The police noted that our client seemed to be under the influence of a drug.
Our client was then charged with felony arson and retained Greg Hill & Associates. Greg listened to the client explain his case and what happened. He asked for documentation of the client's prescription for Atripia and his doctor's confirmation that he had treated the client and that certain side effects were possible with an excessive dosage.
The client was able to obtain this, as well as his father's obituary that spoke of his father's service as a firefighter for many years.
Greg then substituted in on the case for the public defender and confirmed that the offer was indeed 16 months in state prison. The sentence was somewhat high because our client had a prior criminal history involving several convictions, but none for vandalism or arson.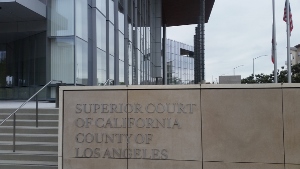 Governor George Deukmejian Courthouse
(Long Beach Courthouse)
Greg spoke with the Long Beach District Attorney handling the case, who Greg knew from prior cases over the years. The DA was open to considering the materials our client had, so Greg wrote a Defense Position Letter, discussing the facts of the case, enclosing the documents described above, and requesting that the prosecutor amend the complaint to allege a violation of Penal Code § 451(d) ("Unlawfully Starting a Fire"), a misdemeanor. This was not arson. After all, the client had started the fire as a signal fire to bring the fire department to the scene, not with any malicious intent to use fire to damage or destroy something.
Moreover, our client was not in danger of repeating the same overdose, as he had his doctor change his medication to something that did not have the same side effects.
After four appearances in the Long Beach Superior Court, Greg Hill finally prevailed upon the prosecutor, who agreed to amend the complaint as Greg suggested. The client would be required to serve one year on summary probation and pay a restitution fine of $150.
The client was especially thankful of this misdemeanor charge (not arson), as he was spared the stigma and inconvenience of having a lifetime obligation to register annually as an arson offender.
For more information about the issues in this case summary, click on the following articles:
Contact us.