Long Beach, Domestic Violence (PC 273.5) Conviction Expunged
Our client, a Navy veteran, had pled no contest to an allegation of violation of California Penal Code § 273.5, domestic violence. It was charged as a misdemeanor. The case and his conviction were out of the Long Beach Superior Court. In his plea bargain, the client had used the public defender. There were no visible injuries to the alleged victim and she immediately left the United States. Had he retained a private attorney, this case very well may have resolved without a conviction through veteran's diversion (at Penal Code 1001.36), much less one for 273.5.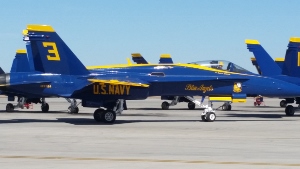 U.S. Navy Blue Angels
The plea bargain's terms were that the client serve thirty-six months of informal, or summary, probation, enroll in and complete a 52 session batterers' program, make a $400 contribution to a battered women's shelter, pay a $250 fine to the court, perform 80 hours of community service and pay a $135 booking fee to the City of Long Beach.
Why This Summary Matters: Prior to the 2018 published decision in People v. Reyna Killion (discussed in our Article # 936), it was generally accepted that in a domestic violence case, if a judge were to end probation early, the probationer must finish at least half of the term of probation – and then seek expungement. To read a pre-Killion case our office was involved in, read the summary herein. Had this case happened after Killion, we would have sought early termination of probation when the client first sought this.

The reader of this summary may recognize that these terms of a plea bargain, negotiated by a public defender rather than private counsel, are rather harsh for a misdemeanor domestic violence charge, especially when there are no visible injuries and the victim is not available to testify as a witness at trial.
The client came to us approximately one year after he had entered his plea, wanting to know if he could have the conviction expunged because he had completed one year of summary probation, as well as having paid all fines and having completed all domestic violence classes, performed the community service and paid the booking fee. The only thing he had not done was wait the full thirty-six months. All he had to do at this point was wait for two years and stay out of trouble during that time, which would most likely be no problem because the alleged victim in the case had returned to India to her family.
The reason our client sought expungement was because he was trying to get a new job and his being on probation was disqualifying. He had no other criminal history. He had paid his booking fee immediately and had performed his community service (10 days) in about one month. In other words, a court could find that he acted with a sense of urgency in fulfilling the terms of probation, so he must have good respect for his obligations to the court, which is great.
We advised him that it was best if he made his motion for early termination of probation and expungement after he had completed half of his summary probation. We explained that judges often will require this, although there is no statutory requirement for this. He understood and agreed.
Accordingly, we met again in approximately five months and the client did continue to stay out of trouble.
Greg Hill then prepared a motion for early termination of probation under Penal Code § 1203.3 and a second motion for expungement of his record under Penal Code § 1203.4. The client provided numerous certificates and letters of recommendation that attested to his changed demeanor and new maturity over the last 18 months. Such letters were added to each motion as attachments.
The court held a hearing on each motion and then granted both motions (technically the motion for expungement is properly called a petition for dismissal).
This was a huge relief to the client and, as he hoped, he indeed was hired by the employer he had coveted. He was very happy.
For more information about the issues in this case summary, click on the following articles:
Watch our video about expungement by clicking
here
.
Contact us.