Long Beach, Client Takes $78,000 from Older Father, No Jail
Our client, age 53 and with a significant criminal history, helped his father obtain a civil personal injury settlement of approximately $68,000 for a broken arm. At the time, the father was in a nursing home and had many other health issues. Our client's siblings all lived in Northern California and were not able to assist our client at all in dealing with the many doctor's visits, paying the father's bills and even visiting him.
Synopsis: Client allegedly steals $78,000 from his elderly father; charged with financial elder abuse (Penal Code § 368) and grand theft (Penal Code § 487(a)), restitution reduced to $30,900, no jail.

Our client dutifully performed all such duties for many years, even taking his father to Las Vegas to finalize a divorce. His father was a large man who needed special diapers and who also loved to spend time on his computer. Our client spent hundreds of hours over the years on his father and incurred enormous expenses for his father's car. He even had to buy a minivan that would make transporting his father easier.
It was exhausting and numbing work, especially when his father needed to go the emergency room at 1:00 a.m. Since our client worked in the health care field, his knowledge and education certainly benefited his father. Our client also helped care for his live-in girlfriend who has epilepsy.
One day, however, our client's patience ran out. He called up his brothers in Northern California and told them they would have to come to Southern California to assume their share of caring for their dad. To help them, he wrote a check for $6,000, representing the remainder of the settlement proceeds. As to the $62,000 that had been spent, he provided detailed accounting of almost every penny.
The brothers, also in their 50's, were outraged that their inheritance of $68,000 had been depleted on their father's medical care, as well as perhaps $10,000 in social security benefits. The father was even more outraged, claiming our client had robbed him. The brothers were also greatly upset at having to take over the responsibility of caring for their bed-ridden father, which was draining. The father was also mad at having to move from Southern California to Northern California.
Our client went overseas to China, Cambodia and Thailand to teach English and generally just get away from the stress. He did use some $10,000 from his father's settlement to pay for this trip.
The brothers and our client then worked out a civil settlement agreement, wherein our client would be paid roughly $23,000 for his expenses in caring for their mutual father, but that our client would pay$55,000 back at $300 per month. The reader may realize that paying back this sum at such a rate would not be accomplished until after our client reached 70.
When our client missed one payment by two days due to a holiday, the brothers rushed to the police and alleged grand theft from an elder. They did not mention that the "late" payment had actually been received two days later and the check cashed, or that there even was a settlement agreement.
The police, however, contacted the federal government because of the apparent theft of government benefits from an elderly person. Our client was then contacted by a U.S. Attorney investigating the claim. At first, he tried to show his accounting and explain everything in a very candid and cooperative manner.
However, the U.S. Attorney persisted in demanding full repayment of $78,000 because the brothers insisted their father (who passed away a few months after being moved to Northern California and just after our client returned from the Far East).
The client then contacted Greg Hill & Associates. He met with Greg Hill, who listened to his story and poured over the meticulous accounting records our client had created.
Greg then met personally with the federal auditor and two attorneys from the U.S. Attorney's office, who had filed a state court complaint against our client for two felony counts of Financial Elder Abuse (Penal Code § 368) and Grand Theft (Penal Code § 487(a)) in the Long Beach Superior Court.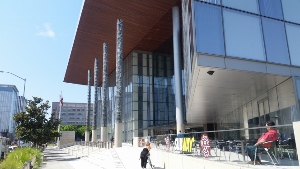 Governor George Deukmejian Courthouse
(Long Beach Superior Courthouse)
After four court appearances and numerous phone calls, Greg was able to negotiate a plea bargain that gave our client no jail, but 400 hour of community service (50 days). If the client did not perform the 50 days of community service, he would face 120 days in county jail. The client also agreed to repay his three brothers and one half-sister a total of $30,900. This deal was significantly better than his prior settlement agreement and the charges pled to were "wobblers," meaning if our client successfully complied with the terms of probation, he would be eligible to have them reduced to misdemeanors and then expunged.
For more information about the issues in this case summary, click on the following articles:
Man Who Tricked Elderly Man in His Nineties to Lend Him $133,000 Must Pay the Sum Back, Plus Interest at 10%
Contact us.