Lomita, Underage DUI, 0.17% BAC, Critical Need Declared
Why This Article Matters: Underage DUI penalties can be rough on a person trying to get financial traction in life, but the worst punishment is the one-year license suspension from the DMV. A request for a finding of critical needs, if signed by the judge in court, can help the client received a critical needs restricted license to avoid the one-year driver's license suspension.

Our client, age 17, had graduated from high school the previous June and had moved out to his own apartment. He was working in a local pizza place and attending classes at Los Angeles Trade Tech. He was paying rent, earning money and, yet, still was a teenager.
This youthfulness led him to invite a few friends over to his apartment to drink a few beers and watch TV. The group had a good time and invited others over as well. The parking in the area of the apartment was difficult, so our client volunteered to move his car out of his designated tenant-parking spot to the street nearby so his friend could pull his car in to the client's spot.
The problem with this plan was that our client was quite drunk and he would have to drive to move his car. Nonetheless the client did move his car just about fifty yards, but while doing so, at 2:30 a.m., a local Lomita Sheriff's Officer stopped him.
The officer wrote in his police report that our client was driving on Pacific Coast Highway, then turning onto Western Avenue, speeding and making unsafe lane changes. This was completely false, as our client never drove more that about fifty yards – and none of it was on Pacific Coast Highway, which was several blocks north of our client's apartment, or Western Avenue. The officer also noted that the car had an empty Bohemia beer bottle in the backseat cup holder.
The client submitted to a breath test at the scene and at the Lomita Sheriff's station, with identical results – 0.17% blood alcohol content (BAC).

After being released from the Lomita Sheriff's station, the client and his parents contacted Greg Hill & Associates. Greg listened to the client describe what had happened and answered questions from his concerned parents.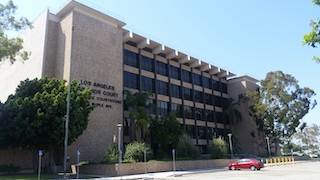 Torrance Courthouse
Greg explained that he expected the Torrance District Attorney to file charges, alleging the client had violated California Vehicle Code § 23152(a) ("Driving in a Manner Impaired by Alcohol"), a misdemeanor, § 23140 ("Under-21 DUI with a BAC of 0.05% or Higher), an infraction, and § 22350 ("Driving at a Speed Above the Posted Speed Limit"), an infraction.
The biggest problem, as Greg saw it, was the one-year driver's license suspension that most likely would occur if the client was convicted of Vehicle Code § 23152 or lost at his DMV hearing, which Greg believed was likely just given the client's BAC. The consequences of this would be that our client would not be able to work to earn the money to continue going to school or simply pay his monthly apartment rent.
In response to such a one-year license suspension, one could apply for a critical needs restricted license under Vehicle Code § 13353.8(a). As the client did not have a prior conviction for DUI and did not refuse to submit to a breath or blood test, he was not disqualified from applying for such a license. Greg explained that the DMV issues such a restricted license, but the judge in one's case can significantly help one's chances at the DMV by signed a finding that the client's need to drive is a critical need.
As the case went along, our office challenged the officer's claim that he observed our client driving on Pacific Coast Highway and Western, but he insisted that this was so and our client insisted that he never ventured so many blocks away to find alternative parking when he was just moving his car for his friend. However, neither the District Attorney nor the DMV found the police officer to be confused about our client's driving.
Ultimately, in court, we were able to resolve the case for a violation of Vehicle Code § 23152(b), with a plea bargain that involved our client being placed on three years of informal, or summary, probation, with no jail, but an obligation to enroll in and complete the AB 762 (six month DUI program), pay a court fine of $390, plus penalties and assessments (less credit for two days in custody, or $250 off the $390 base fine), attend the Hospital and Morgue (HAM) program, attend the Mothers Against Drunk Driving (MADD) victim impact panel (VIP) and attend one AA meeting per week for 52 weeks.
Yet this did not end our work in this case. Greg filed a Request for a Judicial Finding that Defendant's Need to Drive is a Critical Need.
The document was akin to a motion and it explained our client's employment, schooling and monthly income requirements, with attachments that corroborated the alternative costs of using Uber or Lyft or public transportation to go to and from Lomita to downtown Los Angeles (where LA Trade Tech) is located. The request also included his paystubs, his class schedule, his apartment lease and a letter from his boss at the pizza location. The judge signed the finding of a critical need, which should help our client persuade the DMV to issue him a critical needs license.
For more information about underage DUI issues, please click on the following articles:
Contact us.