Lennox, Domestic Violence & False Imprisonment, Strike Prior
The Lennox Sheriff's Department called our client, asking him to appear at the station, so he called our office for assistance in defending him. Greg Hill from our office immediately drove to the Lennox Sheriff's Station to help.
In a Nutshell: Lennox, felony domestic violence and false imprisonment, prior strike for rape removed, plea bargain to one year in prison.

At the station, our client described to us how he and his girlfriend had gotten into an argument over text messages each had received from others. While our client took a shower on that day, his girlfriend left the home. When our client emerged from his shower and clothed, he went and found his girlfriend talking with another guy. Our client then bear-hugged his girlfriend and lifted her up playfully, putting her in his car. The two then drove back to his home.
Once back at our client's home, the argument about text messages continued. Our client's girlfriend threatened to break our client's computer and music equipment if he did not hand over his phone to her so she could read the text messages. When our client refused, his girlfriend kicked the computer and knocked the music equipment off a coffee table to the ground. Our client then tried to subdue his girlfriend by trying to grab her hands and stop her legs from kicking. During the course of this, the girlfriend allegedly cut her lip and may have sustained bruises to her neck area. The girlfriend worked as an escort in gentlemen's club, where she regularly suffered bruises, so attribution of such injuries was an issue. Our client sustained scratches to his back area and shoulders.
The girlfriend then left, upset and angry. It was approximately 1:00 a.m.
The Lennox Sheriff's called our client a few days later. When our client turned himself in, bail was denied, as our client was a registered sex offender, having been convicted of rape seven years earlier.
The Torrance District Attorney charged our client with two felonies for violation of Penal Code sections 236 (false imprisonment with threat of violence) and 273.5 (domestic violence).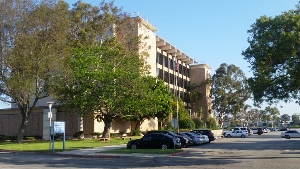 Torrance Superior Courthouse

The initial offer from the District Attorney was eight years. Greg Hill immediately filed two Penal Code § 17(b) motions to reclassify each felony charge as a misdemeanor, as well as a
Romero
motion to have the prior strike offense removed for purposes of sentencing. Our office also discovered that on the very day that our client and his girlfriend had their fight, the girlfriend later went to the beach to "get up her tan" and reported on her My Space page that she was feeling "vindictive."
On the day of the hearing, the girlfriend unexpectedly showed up. Previously, our client had lost contact with the girlfriend, as she apparently changed her cell phone number and moved. We had counted all along on his girlfriend being unavailable to testify against him at trial, making the prosecution's case more difficult. This setback was a blow to our settlement negotiations.
Nevertheless, on the day the two 17(b) motions and the
Romero
motion were set to be heard, the District Attorney asked for a continuance to see if a resolution could be worked out.
The offer at the time was four years in state prison, but the client faced a maximum of 14 years if he were convicted at trial.
Several days later, the District Attorney called our office, commenting that she thought the motions were all "very well done" and reduced the offer to one year, with credit for time served. The District Attorney also agreed to remove the strike for purposes of sentencing, so our client was eligible to be released immediately after he was given credit for time served. The client, facing fourteen years in prison, agreed to the deal of one year.
For more information about the punishment for domestic violence, false imprisonment and having a strike removed, click on the following articles:
Watch our Video about Domestic Violence by clicking
here
.
Contact us
.