Lancaster, Bench Warrant Outstanding for 13 Years, Recalled
In 2007, our client was 29 years old and living with his girlfriend in Lancaster. The two were mutually suspicious that the other was cheating in their relationship.
One day, our client's girlfriend got ahold of our client's cell phone and started reading through his text messages without his permission. Our client walked into the room and saw his girlfriend intently reading one text message while making an expression of outrage. His girlfriend looked up and was about to yell at him and lunge at him to punch him.
In response, our client pushed a large sofa chair in her direction, knocking her down just as she stood up.
The girlfriend, who had a prior boyfriend in prison for felony domestic violence against her, announced, "You are headed to prison! I know how to make sure your life will be misery!" She then called the Lancaster Sheriffs.
In response, our client quickly packed up his clothes, grabbed his laptop and literally moved out in less than two or three minutes. He got in his car and drove away before the police arrived.
A few hours later, police found our client at his friend's house and arrested him on charges of felony domestic violence, Penal Code § 273.5(a). Our client was unable to post bail, so he spent a few days in county jail before his arraignment, at which time, he resolved the case for misdemeanor domestic violence and was released from county jail.
He enrolled in a court-approved batterer's program, but literally attended no classes before finding a job in South Carolina and moving there, also in 2007.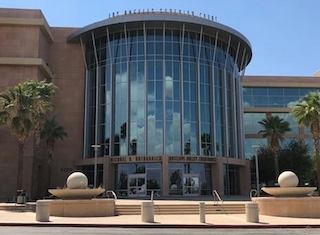 Lancaster Courthouse
At the first progress hearing on his batterer's program classes, he did not appear in court and the judge issued a bench warrant for $30,000 for the client.
Thirteen years later, in 2020, our client's employer, with whom he had worked for ten years, advised him that he had a bench warrant out of the Lancaster Courthouse in California. Our client knew exactly what it was for and called Greg Hill & Associates.
When the client spoke with Greg Hill and described his situation, Greg suggested that the client instead hire a local Lancaster or Palmdale attorney to appear for him, have the bench warrant recalled and then attend the future progress hearings on the case. Greg explained that such an attorney would be less expensive and probably have more rapport with the Lancaster District Attorney's office and the judge. Greg further warned that in domestic violence cases, even misdemeanors, judges would sometimes refuse to recall the bench warrant without the client appearing in court in person, especially when thirteen years had passed.
Greg further explained that what the client ought to do is enroll in a South Carolina court-approved batterer's program and provide our office with a letter documenting this and whether he had completed a few classes. Greg would then show this to the judge when requesting permission that the client be allowed to complete his classes in South Carolina.

Greg further recommended that the client provide documentation of living in South Carolina (to rebut a suspicion that he really may be living in Palmdale or Lancaster and was just scared of being remanded) to Greg show he could show the judge our client truly was living 3,000 miles away.

Lastly, Greg recommended that although it technically was not required, it would be wise to have the client sign a 977(a) waiver of personal appearance form and have it notarized, just to show the judge that the attorney and the client were trying to do everything possible to have the bench warrant recalled.
Greg told the client to call a few attorneys in Palmdale and Lancaster first and try to hire one of them so the client would save money.
After about a month, the client called Greg Hill & Associates back, saying that he had spoken to several criminal defense attorneys in Lancaster and Palmdale, but none seemed to know what they were doing and their fees were the same or just slightly less. He preferred Greg because Greg had a plan and a sense of urgency about the situation, unlike the attorneys in Lancaster and Palmdale.
The client then hired Greg Hill & Associates and Greg appeared in the Lancaster courthouse in a few days, with a notarized and signed 977(a) consent form, proof of the client having enrolled in a South Carolina domestic violence program approved by the local court and documentation showing he was employed in South Carolina.
The judge in Lancaster did recall the bench warrant and reinstated our client on probation. He also gave the client permission to attend the batterer's program in South Carolina.

The client was very happy with this result.

For more information about bench warrant issues, please click on the following articles: