Lancaster, 6 Counts Felony Graffiti, Plea to 1 Misdemeanor
Our client, age 30 and with zero criminal history, was arrested after Lancaster police tied him to seventeen areas of graffiti in and about the city. They had investigated him for months and finally located him. They served a search warrant on his home and found a box with paint and stencils that matched those used in our client's distinctive graffiti. He was then arrested by the officers conducting the search.
Synopsis: Lancaster client faces six counts of felony vandalism (Penal Code § 594(a)) for graffiti, case resolved for one misdemeanor count with community service and restitution.

Our client was quite cooperative with police, who regarded our client with a fair level of curiosity. In his graffiti, our client was not signing his name or initials or anything related to any gang. He was not signing his own name or writing foul language.
Instead, his graffiti to city-owned walls and electric control boxes consisted of a single motivational message, meant to inspire other taggers to have ambitious goals and leave a life of tagging. Our client's goals, in other words, were to prevent crime and urge youths to a life of achievements leading to further education at college and then to a good job.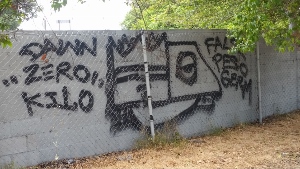 Our client called Greg Hill & Associates because he went to his arraignment and found the District Attorney had filed a complaint alleging six counts of felony vandalism (Penal Code § 594(a)), but had threatened to add eleven more counts if he did not accept the first plea bargain. This deal was three years in state prison. The client could not accept this. He was shocked at the offer and the threat by the prosecutor.
Greg Hill & Associates was retained and immediately noticed that the case bore a striking similarity to a recent juvenile case, Luis M. v. The Los Angeles Superior Court (2012 DJDAR 15097) (cite as
Luis M. v. Superior Court
(2012) 148 Cal.Rptr.3d 795, 210 Cal.App.4th 982), involving graffiti in Lancaster, no less.
In that case, the Lancaster District Attorney had charged a juvenile with felony vandalism, basing the charge on the average cost ($432) for the City of Lancaster to investigate, process and finally repair the damage. As the reader may know, felony vandalism involves damage that exceeds $400; misdemeanor vandalism involves damage of less than $400. The juvenile challenged the prosecutor's method of calculating the repair cost. The appeals court ruled that the city could only factor in the cost to repair and its cost must be based on the actual cost of the specific repair, not any average cost overall to the city. The case against the juvenile was then remanded with instructions to tailor the charges to the actual costs to the specific vandalism at issue.
In our client's case, the City of Lancaster alleged that the cost to repair the six instances of vandalism was also $432 each. The similarity was more than coincidence.
Greg Hill brought this to the District Attorney's attention and even showed the District Attorney the other opinion. Greg asked the District Attorney for repair estimates for each of the six instances of vandalism involving our client, some of which were very minor and surely involved repair costs of far less than an average patch of graffiti.
Greg also prepared and filed a Motion to Reclassify the case as a misdemeanor on all counts under Penal Code § 17(b).
The District Attorney fumbled around with the case for two more appearances, explaining that he could not get the police to provide the actual damage estimates for the specific damage in this case. Finally, he caved in and reduced one count of the complaint to misdemeanor vandalism and dismissed the other five counts.
He then offered our client a plea bargain wherein he would plead to one count of misdemeanor vandalism in exchange for three years of informal probation, 30 days of graffiti removal and restitution of $4,000. The $4,000 amount was negotiated down from $7,338, which was the "estimated" cost to repair based on Lancaster's average cost to repair. Our client also has the option to end probation in one year and expunge conviction.
The client was very happy with the resolution, as he could keep his job and completely avoided prison.
For more information about graffiti and vandalism, click on the following articles:
Contact us.