Juvenile Probation Condition Too Vague So Ruled Invalid
It is fundamental that "a probation condition 'must be sufficiently precise for the probationer to know what is required of him, and for the court to determine whether the condition has been violated.'" People v. Barajas (2011) 198 Cal.App.4th 748, 753. "The underpinning of a vagueness challenge is the due process concept of fair warning." In re Sheena K. (2007) 40 Cal.4th 875, 885.
In a Nutshell: A probation condition has to be clear and unambiguous enough for the probationer to know what is allowed or not allowed, for the cops to objectively (not subjectively) evaluate this and for a judge to decide if there is a violation.

"Fair warning requires that a probation condition be described clearly enough that "ordinary people can understand what conduct is prohibited." In re Angel J. (1992) 9 Cal.App.4th 1096, 1101; Sheena K., at 890. In juvenile cases in particular, probation conditions should be "as comprehensible as possible." In re E.O. (2010) 188 Cal.App.4th 1149, 1157.
With these principles in mind, the First Appellate District recently (May 31, 2018) reviewed the probation conditions of G.B., a juvenile adjudicated a ward of the court and who was adjudicated in violation of Penal Code § 29610, a felony for possessing a concealable firearm.
A little background about the case is helpful toward understanding how the case was brought to the First Appellate District and how its ruling in People v. G.B. (2018 DJDAR 5729) was reached, striking a certain probation condition.
In May, 2017, a maintenance worker at a Pittsburg marina in Contra Costa saw G.B. and some other youths in an area of the marina where no one usually is. The maintenance worker saw G.B. dancing in front of a group of the others while waiving a gun in his hand. The maintenance worker then called the police and G.B. was found with this gun and arrested.
The juvenile court judge sustained the allegations of the petition (meaning G.B. was convicted if this were an adult case). The judge then placed G.B. on probation with several conditions, one of which was that "[m]inor to have peaceful contact only with all law enforcement." The judge went on to explain, "So what that means is you may be interacting with law enforcement, and you just cannot act aggressively toward law enforcement specifically. Not abridging your First Amendment rights. I just do not want you to act aggressively."
G.B. then filed an appeal with the First Appellate District, challenging "peaceful contact with and not to act aggressively" (and other probation conditions) as unconstitutionally vague.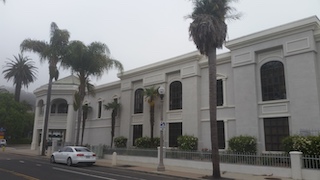 2nd Appellate District Division 6 Ventura
The First Appellate District agreed, finding that requiring him to only have "peaceful contact" with law enforcement did not give G.B. fair warning what conduct is required or prohibited, nor does it provide guidance as to what would constitute a violation. It leaves G.B. in a position of guessing what sorts of behavior and interactions would qualify as reportable.
The First Appellate Court also commented that the juvenile court judge's comments that G.B. "not act aggressively" did little to help clarify the condition. For example, does the condition require G.B. to be tranquil in all contact with law enforcement or just avoid violence or force? Likewise, "aggressive" can have several meanings, including showing a "combative readiness," "obtrusive energy" or "driving forceful energy or initiative," which the First Appellate District noted cover a wide variety of potential behaviors.
In other words, people of ordinary intelligence would disagree as to what constitutes peaceful or aggressive behavior. Law enforcement, in turn, may have other views on the subject. One person may find a tone of voice, a sarcastic comment or body language "not peaceful" or "aggressive," while others may find such things innocuous.
The First Appellate Court thus struck this probation condition, surely much to G.B.'s relief.
Contact us.