Juror Off Jury if Reservations About Death Penalty?
Judy Palmer, age 60, told a friend that she was afraid of her then-boyfriend, Paul Wesley Baker, age 43, and that "If anything happened to her, he did it." Within a few weeks, Palmer disappeared and her body was found in the desert, severely decomposed.
Palmer was an active participant in Alcoholics Anonymous (AA) and had been sober for 28 years. She dedicated a large amount of her time to helping others in the program. One was Baker, who suggested they start dating. He then moved into her apartment with her. Baker worked as a handyman, but otherwise had no job. He was physically abusive of Palmer, but asked her to marry him and she said "hell no." This apparently made Baker quite upset.
Why This Article Matters: A potential juror is not disqualified from serving on a jury in a death penalty case just because that person has personal reservations about imposing the death penalty. That juror can still be on the jury in a such a case if he or she is determined to be capable of following the jury instructions, despite personal beliefs, that direct a death penalty sentence.

A jury in Lancaster Superior Court convicted Baker of first-degree murder, among several other offenses. The jury also found true two special circumstance allegations, forcible rape and first-degree residential burglary, and returned a verdict of death.
The trial included a second set of charged offenses that the jury found Baker committed against two other women other than Palmer: forcible rape and sodomy by force. Baker was acquitted of the alleged forcible rape of Monica H. (she did not appear to testify) and two counts of sodomy by force against Laura M. and one count of forcible rape against Susanne K.

During voir dire, the prosecution peremptorily struck two African American prospective jurors. One was R.T. and the other was T. P.
R.T. described herself as a 51-year-old Black woman. In her juror questionnaire, she wrote that she "believe[d] in the death penalty" and was "moderately in favor" of it. She felt comfortable serving on a jury in a capital case, asserting that she would be able to vote for death if appropriate under the facts and the judge's instructions.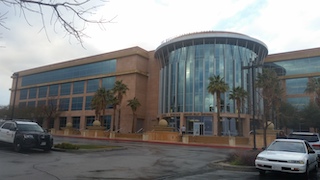 Lancaster Courthouse
The People did not seek to exclude her for cause. On further examination, R.T., the prosecution asked if she could announce a verdict of death after hearing the facts and listening to the judge's instructions. R.T. answered, "I really don't know. I don't know if I'd be comfortable or be scared. I don't know." The prosecution then struck her from the jury panel. The defense did not object to this.
T.P. described himself as a 44-year-old Black man and that he was "neutral" about the death penalty and thought it "might be" necessary in "some cases of extreme violence." He also conveyed that he thought life imprisonment was worse punishment than death. He also said that "God is the only one to give life and take life." He also said he could serve on a jury with a death penalty and the alternative of life, if the person had the possibility of parole. He added further that he had mixed feelings about the death penalty.

The prosecution challenged him for cause. The court denied the challenge. The prosecution later used a peremptory challenge against T.P.
Immediately after T.P. was struck, the defense raised an "objection in the nature of state law -Wheeler motion," which the court understood to raise a federal Batson claim as well." Batson v. Kentucky (1986) 476 U.S. 79, 97; People v. Wheeler (1978) 22 Cal.3d 258, 276 (peremptory challenges may not be used to exclude prospective jurors based on group membership such as race or gender."). "Excluding even a single prospective juror for reasons impermissible under Batson and Wheeler requires reversal." People v. Huggins (2006) 38 Cal.4th 176, 227.
When a party opposing a peremptory strike makes a prima facie case that the strike was motivated by impermissible discrimination (step 1), the proponent of the strike must offer a nondiscriminatory reason for that challenge (step 2). People v. Armstrong (2019) 6 Cal.5th 735, 765. The question then becomes (step 3) whether the opponent of the challenge has show it "more likely than not that the challenge was improperly motivated." Id, at 766, see also Parkett v. Elem (1995) 514 U.S. 765, 767.
The trial court found a prima facie case of racial discrimination because both jurors were Black. However, when the prosecution was asked to give a race-neutral reason, the judge found that the prosecution was credible when she explained that she excused both because both said they would have difficulty imposing the death penalty, relying in part on R.T.'s demeanor during voir dire.
The trial court therefore denied the defense Batson / Wheeler motion.
After the verdict imposing the death sentence, an automatic appeal followed and the exclusion of such jurors was challenged on appeal. The case made its way up to the California Supreme Court, where in People v. Paul Wesley Baker (2020 DJDAR 1047), the Supreme Court affirmed the Batson / Wheeler ruling, adding that a juror's reservations about imposing the death penalty are an acceptable race neutral basis for exercising a peremptory challenge.
The citation for the California Supreme Court ruling discussed above is People v. Paul Wesley Baker (2021) 10 Cal. 5th 1044, 274 Cal. Rptr. 3d 655, 480 P. 3d 49.

For more information about the death penalty, please click on the following articles: