In Capital Case, Can Jurors Have Objection to Death Penalty?
Depending upon the age of the reader of this article, the name Scott Peterson may ring a bell. The reader may recall the media frenzy that swirled around the Northern California case, as the facts were shocking. What is perhaps equally shocking, we find, is that the death penalty ordered in this case was reversed due to judicial error in jury selection.
Summary in 50 Words or Less: In a capital case, jurors may have an objection to the death penalty, but this is not sufficient to excuse him or her for cause. It is only sufficient grounds for excusal for cause if the juror states his or her personal belief is so strong that it cannot be put aside and that juror would be unable to apply the law as instructed.

The facts of the case were riveting, but quite sad. Peterson and Laci Rocha met each other in San Luis Obispo, where Laci was attending college and Scott was a waiter at a local restaurant. They were both good-looking and wholesome in appearance. Neither had any criminal history.
The two were married in 1997 and opened a restaurant that they ran in San Luis Obispo. The restaurant only lasted a short time and they then moved to Modesto to be closer to Laci's parents. Scott became employed as the president of a start-up fertilizer company and Laci was employed as a substitute teacher. Laci then became pregnant and the two were excited that they would be having a baby boy, who they named Conner, in February 2003.

On Christmas Eve, 2002, however, Laci disappeared. Scott was questioned, but he explained that he was out fishing at the time and had no idea where she went.

On December 30, 2002, a woman named Amber Frey contacted the police and advised her that Peterson, who she thought was unmarried with no children, and with whom she had been having a relationship since November, was a suspect in the disappearance of his pregnant wife. Frey explained the relationship was sexual and that Peterson had spent the night at her house, picked up her young child at daycare and attended parties with her.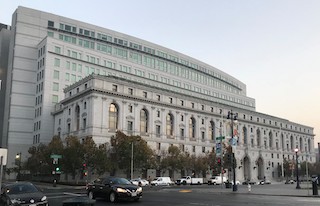 California Supreme Court San Francisco
In mid-April, a significant storm hit Northern California and an elderly couple, walking the following morning, came upon Conner's badly decomposed body along the San Francisco Bay about a mile from where Peterson claimed he was fishing when Laci vanished. Laci's body thereafter washed ashore a short distance away.
Peterson was then arrested, charged and convicted of first-degree murder for killing Laci and second-degree murder of his son. The jury returned a sentence of death.
An automatic appeal followed, which just recently (September 2020) made its way to a ruling from the California Supreme Court.
Peterson alleged many grounds for appeal, but his article will only consider his successful argument that the judge erred in jury selection by excluding 13 jurors who stated they were generally opposed to the death penalty. Such responses were elicited from a 120 page jury questionnaire that failed to also ask if, despite the juror's general opposition to the death penalty, would the juror be able and willing to impose the death penalty if the law and facts supported death.
The California Supreme Court acknowledged that Peterson was correct in this argument and vacated the death penalty.
Our state's highest court explained that long-standing U.S. Supreme Court precedent makes clear that prospective jurors in a capital case may not be disqualified from service in a capital case solely because of their general opposition to the death penalty. See Witherspoon v. Illinois (1968) 391 U.S. 510; Wainwright v. Witt (1985) 469 U.S. 412. The California Supreme Court then commented "That is just what happened here" (People v. Scott Lee Peterson (2020 DJDAR 9221)).
Here, the Supreme Court of California explained, the trial court should have asked such prospective jurors, as the questionnaire did not, whether the juror could impose the death penalty despite personal beliefs opposing death. The judge failed to do this.
Such failures required the Supreme Court to reverse the death penalty.
Gray v. Mississippi
(1987) 481 U.S. 648; see also
People v. Riccardi
(2012) 54 Cal.4th 758, 778. However, the judgment of guilty was affirmed and the matter was remanded for further sentencing.
While this is the only issue covered by this article, the Supreme Court ruling also covers the change of venue issue, as Petersen argued that the extensive pre-trial publicity prevented him from having a fair trial.
The citation for the California Supreme Court ruling discussed above is People v. Scott Lee Peterson (2020) 10 Cal. 5th 409, 268 Cal. Rptr. 3d 56, 472 P. 3d 382.

For more information about death penalty issues, please click on the following articles: