Is Validated Gang Membership Enough for a Gang Enhancement?
Penal Code § 186.22(b)(1) provides that there shall be a sentence enhancement of five years for any person convicted of a felony if the jury finds that the crime was committed "for the benefit of . . . any criminal street gang" and with "the specific intent to promote, further, or assist in any criminal conduct by gang members." Not every crime committed by a gang member is gang-related.
Why This Article Matters: Validated gang membership is not enough for the prosecution to show for the jury to find the gang enhancement true. The jury must also find that defendant acted to promote, further or assist the gang in a crime.

The following summary of a recent (December 18, 2017) California Appellate Court decision illustrates this distinction and should be read by anyone facing allegations of committing a felony for a criminal street gang.
On the night of May 10, 2013, Tino Alexander Perez was at a party hosted by the California State University, Sacramento golf team. He stood out among the golf team members, as he had a shaved head with a long pony-tail and lots of tattoos, including the number 90 tattooed on his neck. When someone at the party attempted to introduce himself to Perez at the party, Perez said, "I'm E."
When the party wound down around midnight, shots rang out.

Immediately before this took place, there was a heated argument between a Hispanic woman and an African-American man. Two of the students tried to help the Hispanic woman and Perez asked the Hispanic woman if the two students were harassing her. The Hispanic woman told Perez, "no, they were helping me." Nonetheless, Perez took out a gun and began shooting toward the students, even chasing some of the students out from places where they were hiding to avoid being shot. Four students in all were shot before two other students tackled Perez and disarmed him.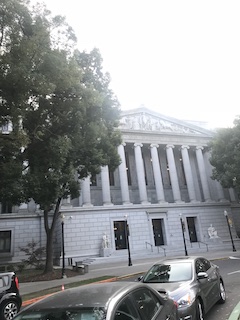 Court of Appeal Third Appellate District Sacramento
Perez's cell phone contained photographs of him flashing gang signs and even photographs of him holding guns such as a .22-caliber revolver. Perez also had a propensity for incriminating himself, as his phone calls from jail, which were recorded, memorialized him telling someone "Yeah, I shot four people, bro.. . . That's what they're charging me with." He also placed himself at the golf team party in his phone calls.
At trial, Detective John Sample testified that Perez was a validated member of the Varrio Garden Land Norteño (VGLN) gang, based on his interview with Perez's brother, Perez's tattoos, a review of Perez's Facebook account and his review of eight police reports, four of which described Perez being in the company of Norteño gang members. Sample also testified that the shooting was gang-related because it would cause fear to the students and thereby enhance the gang's reputation. He also stated that Perez was a validated Norteño gang member since 2010 and was housed with Norteños at the jail.
A jury found Perez guilty of four counts of attempted murder (Penal Code §§ 664, 187(a)) and four counts of assault with a firearm (Penal Code § 245(a)(2)). The jury also found that Perez acted to benefit a criminal street gang.
Perez appealed the jury verdict, arguing that the evidence was insufficient to find that he committed the offenses for the benefit of a criminal street gang within the meaning of Penal Code § 186.22(b)(1) and that the felonies were committed "with the specific intent to promote, further, or assist in any criminal conduct by gang members." People v. Rios (2013) 222 Cal.App.4th 542, 561.
The Third Appellate District, in People v. Tino Alexander Perez (2018 DJDAR 11960), agreed with Perez, finding that "the only shred of evidence" possibly connecting Perez to VGLN was that Perez was a tattooed, validated gang member. Not any shooting by a gang member is gang related because the use of violence enhances the gang member's reputation and thereby enhances the gang's benefit by instilling fear in the community.
More evidence is needed to show Perez wanted his shooting to help a certain gang. Such a sweeping generalization like Detective Sample made, "untethered" to a specific intent or direct benefit is insufficient to support the gang enhancement found by the jury in Perez's case.
We think this ruling is extremely important in keeping the gang enhancement limited to its legislative intent and instilling discipline in courts to limit such an enhancement to those where both prongs of the enhancement are proven. Just because someone is a gang member and has tattoos does not make every felony committed by him or her a gang crime.
The citation for the Third Appellate District Court ruling discussed above is People v. Tino Alexander Perez (3d. App. Dist., 2017) 18 Cal.App.5th 598.

For more information about gang enhancements in sentencing, please click on the following articles:
Contact us.