Is the Sex Offense Exception to Mental Health Diversion OK?
The Reader's Digest Version: The exclusion of registered sex offenders from Mental Health Diversion is not legally improper as an ex post facto law, as the registered sex offender in the following case summary argued to the Fourth Appellate District.

In 2010, a jury convicted Rennard Cawkwell of several sex offenses and he was then imprisoned for two years. Upon release, he was required to register as a sex offender under Penal Code § 290 and placed on parole, with several conditions, including a prohibition from contacting minors, possessing pornography or accessing the Internet.
While still on parole in 2015 and into 2016, 46-year-old Cawkwell pretended to be a 16-year-old boy named Renny and developed a relationship with 16-year-old Kayla M. After a month or two or online chatting, Kayla and Renny became online boyfriend and girlfriend and their conversations turned sexually explicit. Renny told Kayla that he wanted to "make love to" Kayla and "quite frequently" told her he wanted to have oral sex with her.
Renny planned to meet her in person in March of 2016 when he ended his parole. He told her he would give her a cell phone he could communicate with her without her parents knowing.
About a week after he was discharged from parole, he showed up at Kayla's house unannounced to see his "girlfriend." Kayla's brother, who was home alone, told Cawkwell to leave and reported the encounter to the police.
About two weeks later, Cawkwell again showed up at Kayla's house unannounced. Kayla's 12-year-old sister was home alone. Cawkwell had a box with a phone emblem on it. He asked Kayla's young sister to give the box to Kayla. The sister declined.
Law enforcement obtained and executed a search warrant on Cawkwell's home, where they found a new cellphone and a used cellphone hidden in the garage. On Cawkwell's used cellphone, they found several images of underage girls, including pornographic images of a 14-year old girl.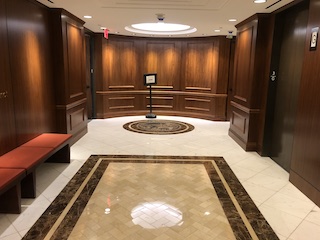 Fourth Appellate District Court of Appeal Division 1 San Diego
Based on his conduct with Kayla, Cawkwell was arrested and charged with communicating with a minor with the intent to commit a sex offense (Penal Code § 288.3(a)) and annoying or molesting a child (Penal Code § 647.6(a)). He was also charged with possession of child pornography by a registered sex offender (Penal Code § 311.11(b)).
Cawkwell went to trial and was convicted of violating 288.3(a) and 647.6(a). The trial court in San Diego County denied Cawkwell's Romero motion to strike his prior strike and imposed the upper term of 18 months on the 288.3(a) charge, doubled to three years, plus one year for the prison prior. The judge also imposed, but stayed under Penal Code § 654, 364 days on the molesting / annoying a child conviction. Both convictions require him to register under Penal Code § 290.
After Cawkwell was sentenced, the state Legislature established mental health pre-trial diversion under Penal Code § 1001.36(a) for certain individuals with qualifying mental disorders.

About three months after enacting 1001.36, the Legislature amended the statute to eliminate diversion eligibility to defendants charged with certain offenses, including "[a]n offense for which a person, if convicted, would be required to register pursuant to Penal Code § 290 . . ."
It is not clear how Cawkwell appealed his convictions, but in his appeal, he argued that the initial version of 1001.36 applied to him as ameliorative (citing to e.g. People v. Frahs (2018) 27 Cal.App.5th 784, 792 (finding the statutes retroactive for non-final sentences)) and the amended version did not as it would constitute an ex post facto law in violation of the state and federal Constitutions.
The ex post facto prohibition ensures that people are given "fair warning" of the punishment to which they may be subjected to if they violate the law; they can rely on the meaning of the law until it is explicitly changed. Weaver v. Graham (1981) 450 U.S. 24, 32 & fn 17.
The Fourth Appellate District Court of Appeal, in People v. Rennard Cawkwell (2019 DJDAR 3682) disagreed. In an interesting explanation, the court of appeal reasoned that the amendments to 1001.36 were not ex post facto laws because Cawkwell committed the offenses years before the amendments were enacted, so he could not have relied on diversion in committing the offenses. He communicated with Kayla in 2015 and 2016, two years before mental health diversion was enacted in 2018.
We find this case and the court's reasoning quite interesting. Cawkwell's attempt to invoke the original version of mental health diversion and avoid the amended version as an ex post facto law is academically clever, but we think even if he had succeeded in his argument, no judge would grant him mental health diversion because the judge can use his or her discretion in considering whether his release on such diversion would be a public safety danger. In Cawkwell's case, that most likely would have been found by a judge, dooming such diversion anyways.

The citation for the Fourth Appellate District Court ruling discussed above is People v. Rennard Cawkwell (4th App. Dist., 2019) 34 Cal.App.5th 1048.

For more information about mental health diversion and who is excluded based on an obligation to register as a sex offender under Penal Code § 290, please click on the following articles: