Is It Proper to Require DNA Samples From Felony Arrestees?
Penal Code § 295, also known as the DNA and Forensic Identification Data Base and Data Bank Act of 1998 ("The DNA Act"), requires that a DNA sample be taken from all adults arrested for or charged with any felony offense immediately following arrest or during the booking process (Penal Code § 296.1(a)(1)(A); § 296(a)(2)(C)). The DNA Act authorizes this taking without a warrant.
Summary: The DNA Act of 1998 Is Ruled Unconstitutional for Requiring DNA Samples from Felony Arrestees Immediately Following Arrest.

This act has been subject to a great deal of criticism because the seizure of DNA from a suspect, at the time when he or she is presumed innocent and when no court has yet determined whether there was probable cause for an arrest, would be an unreasonable search and seizure, as prohibited by the Fourth Amendment to the U.S. Constitution.
In 2013, the U.S. Supreme Court ruled that a Maryland statute requiring collection of DNA from arrestees charged with "serious crimes" was constitutional, even though the person had yet to be convicted. The U.S. Supreme Court agreed with Maryland that the government had a "legitimate government interest" in allowing police officers to "safely and accurately identify the person taken into custody." The court viewed the taking of DNA to identify the individual as critical to ensuring safety in a custodial setting by allowing "law enforcement officers to know what type of person whom they are housing and to make critical choices about how to proceed."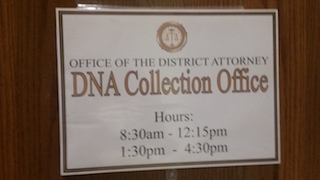 Orange County DNA Office
In this regard, the U.S. Supreme Court explained that DNA information could help law enforcement assure an arrestee's availability at trial by indicating arrestees who had committed more serious offenses in the past and might be more inclined to flee in order to avoid investigation that could expose the other offenses. This could help set bail or, when the information is negative for a DNA match with a suspect, could allow the release of a suspect, i.e. in a rape case.
The U.S. Supreme Court further noted that an individual's expectation of privacy once taken into custody is diminished and that the physical intrusion by a buccal swab is minimal.
Justice Scalia dissented with piercing logic. He explained that the majority decision departed markedly from prior Fourth Amendment jurisprudence by allowing the search of a person for evidence of a crime for which he or she was not arrested. It is a suspicionless search. He noted that even when a warrantless search is allowed as an exception to the Fourth Amendment, there "still must be some type of individualized suspicion."
Chandler v. Miller
(1997) 520 U.S. 305, 308.
Scalia went further, chastising the majority for allowing a search designed to serve "the normal need for law enforcement."
Skinner v. Railway Labor Executives Ass'n
(1989) 489 U.S. 602, 619. Scalia reminded that there is no "free form reasonableness inquiry." A search may be conducted of an arrestee to search for weapons or evidence that may be easily destroyed or evidence relevant to the crime of arrest.
Arizona v. Grant
(2009) 556 U.S. 332, 343-44. Moreover, no matter the degree of invasiveness, suspicionless searches are never allowed if their principal end is ordinary crime solving.
This background is necessary to understanding the case of
People v. Mark Buza
, which came to the First Appellate District on remand from the California Supreme Court with directions to reconsider its prior decision in light of
Maryland v. King
(2013) 569 U.S. 435, 133 S. Ct. 1958, discussed above.
The First Appellate District looked at its prior decision in
Buza
, wherein it declared the DNA Act unconstitutional and affirmed this. It therefore affirmed its reversal of the conviction of Mark Buza.
Buza had been arrested in 2009 by the San Francisco Police after a police car was seen on fire. Buza was observed hiding behind the burning police car and then seen running into a nearby wooded area. Police yelled at him to come out and surrender, which Buza did.
Matches were found in his pocket and a search of the wooded area found a bottle with oil and gasoline in it. Buza was then arrested and while in custody, ordered to give a DNA sample. Buza refused.
He was then charged with arson and refusing to give a DNA sample, as provided by the DNA Act. Buza then entered into a plea bargain as to the arson charges, but moved for acquittal on the DNA count, arguing that it was unconstitutional. The trial court denied the motion. Buza was then convicted of violating the DNA Act.
Buza then appealed the conviction and the court of appeal agreed with him, reversing the conviction on the DNA Act. As the People appealed to the California Supreme Court, the
Maryland v. King
decision was announced before the California Supreme Court could rule on
Buza
.
The California Supreme Court, in light of the ruling in
King
, remanded the case to the appellate court, which, as described above, affirmed their ruling. This time, however, they based their ruling in large part on Justice Scalia's dissent in
King
.
The citation for the First Appellate District Court ruling after the California Supreme Court ruling (taking into account the U.S. Supreme Court's ruling) discussed above is People v. Buza (1st App. Dist. 2014) 231 Cal.App.4th 1446 (subsequent treatment by California Supreme Court in People v. Buza (2018) 4 Cal.5th 658.
For more information about the issues in this case, click on the following articles:
State Appellate Court Rules That A Law Allowing Collection Of DNA From An Arrestee Is Unconstitutional.
Contact us.