Is It Legal for Police to Search a Car with No Warrant?
In a Nutshell: When police observe evidence of illegal drugs in plain view and there is a woman in the car who tells police her role is to "protect the car" for her huncle, who police just saw make a drug deal, police may search the car without a warrant under the automobile exception to a warrant.

The following summary of an appellate court decision (People v. Corey Johnson (2018 DJDAR 2925), hits close to home, as it involves a Compton arrest and a judge we regard as top-notch in Compton.
In May, 2016, Los Angeles Police Officers were monitoring the Nickerson Garden Housing Development by closed circuit television cameras. An officer witnessed what he believed was a woman walk up to a man, Corey Johnson, who showed her a clear plastic bag containing an off-white rock-like substance. She then paid him $5 and he gave the woman the rock-like substance. The two then walked away from each other.
Police continued watching the suspected drug dealer get into his car and drive away. A short time later, Mr. Johnson returned to the housing project in his car, parked, and walked about two blocks, where police detained him. Police then arrested him and found his car keys. They did not find any drugs on him, or money.

However, they then drove the two blocks to the man's car and found a young woman in the driver's seat. Sitting on the passenger seat was a plastic baggie with marijuana in it in plain view. The officer then asked the woman to exit the car, which she did. In doing so, she said she was "watching the car" for her uncle, who she identified as "Corey."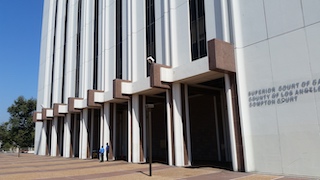 Compton Courthouse
Police then searched the car, finding not only the marijuana (this was pre-Prop 46, so it was illegal in any amount), but also 1.37 grams of rock cocaine.

The Compton District Attorney's office then charged Corey Johnson with possession of cocaine base for sale (Health and Safety Code § 11351.5 and sale of a controlled substance (Health & Safety Code § 11352). Johnson then moved to suppress the evidence discovered in the warrantless search of his car.
The Compton judge hearing the motion denied the motion, finding there was probable cause to arrest Johnson after officers witnessed him selling what appeared to be a controlled substance. The judge also ruled that under Arizona v. Gant (2009) 556 U.S. 332 [129 S. Ct. 1710, 173 L.Ed.2d 485] that police were authorized to search Johnson's car "if the police have reason to believe that the vehicle contained evidence related to the crime of the arrest. . . Doesn't matter where it is necessarily. Doesn't matter that it is two blocks away. . . it was pretty clear that they had reasonable belief and probable cause to believe that the narcotics . . . were kept in a safe place, the safe place being the car he had just exited." A second basis was that the car had just been driven, the officers "had ample evidence to believe he had just transported marijuana in violation of Health & Safety Code § 11360(a)."
After the motion to suppress was denied, the People added a sentence enhancement that the offenses were committed to further, benefit or aid a criminal street gang (Penal Code § 186.22) and that Johnson had one prior strike conviction, three prior serious felony convictions and had served five prior prison terms for felonies (Penal Code § 667.5(b)). Johnson then entered into a plea bargain for eight years in state prison.
On Johnson's appeal of the motion to suppress, the Second Appellate District affirmed the Compton judge's ruling, but with reasoning that merits mention. The appellate court found that the officer searching the car had a substantial basis to believe Johnson had left the bag of rock cocaine in the car, as well as the money and that a search of the car would disclose evidence of criminal activity. In short, he had probable cause to search the car under the automobile exception to the warrant requirement under Pennsylvania v. Labron (1996) 518 U.S. 938; Robey v. Superior Court (2013) 56 Cal.4th 1218, at 1234.
The citation for the Second Appellate District Court ruling discussed above is People v. Corey Johnson (2d App. Dist., 2018) 21 Cal.App.5th 1026.

For more information about search and seizure issues, please click on the following articles:
Contact us.