Is it Assault if Defendant Raises a Knife 21 Feet Away?
An assault is an unlawful attempt, "coupled with a present ability, to commit a violent injury on the person of another." Penal Code § 240. A defendant has the "present ability to injure once he or she has attained the means and location to strike immediately." People v. Chance (2008) 44 Cal.4th 1164, 1174.
The Gist of this Article: An assault can take place when defendant is standing 21 feet away from the victim when defendant is holding a switchblade in a menacing manner and telling the victim he intends to hurt him, which causes the victim to run and be chased by the defendant.

In this context, immediacy means that the defendant has "equipped and positioned himself to carry out a battery . . . even if some steps remain to be taken, and even if the victim or the surrounding circumstances thwart the infliction of injury." Id., at 1172. Thus, an assault can occur even when the defendant makes no contact with the victim. People v. Aguilar (1997) 16 Cal.4th 1023, at 1028.
The issue of what qualifies as a "location" to strike immediately is rarely an issue, generally because we see assault with a deadly weapon in the context of fights indoors. However, when it is outdoors and two people are standing, facing each other 21 feet away and one is holding a knife in a menacing manner, what surrounding circumstances are considered if it is an assault?
This question was answered in the case of People v. Raymundo M., an appeal to the Fourth Appellate District Court from the San Diego Superior Court.
The basic facts were that in October, 2018, Raymundo M., then a minor, was arrested for assault with a deadly weapon (Penal Code § 245(a)(1), a strike) after he raised a switchblade-like knife head-high and chased another minor while orally threatening him.
Earlier, Raymundo M.'s younger brother, a freshman, had apparently bumped into I.S. at a San Diego County high school while the two were walking through a crowded hallway. The two briefly argued and Raymundo's brother apologized and the incident seemed to be insignificant.
However, it apparently was not insignificant to Raymundo M., the 17-year-old older brother.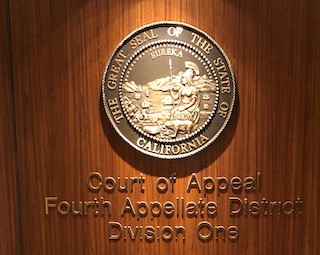 Fourth Appellate District Court of Appeal Div 1 San Diego
About a week later, I.S. and his younger brother were walking to I.S.' car a few blocks away after school. Raymundo M., his younger brother that had the "bumping incident" with I.S., and two other males were parked nearby and got out of the car to "greet" I.S.
Raymundo M. and the three others in his group then started "dogging" I.S., meaning they were staring at him aggressively. I.S. then told his younger brother, "[Y]ou might want to run because they're going to come after me." I.S. later estimated that Raymundo's group was about 21 feet away.
Raymundo then asked I.S., "Can you help me with something?" and pulled out a knife, which he held waist-high. Raymundo then held the knife head-high and began "lunging towards" and chasing I.S. I.S. was "in shock" and ran away. Raymundo and his group chased after I.S.
During the chase, Raymundo yelled "Fuck Maza," which I.S. understood to be gang reference, but it had no real significance to I.S. because he was not in a gang. When Raymundo got about ten feet from I.S. he told him, "You're going to die today."
At some point, Raymundo and his group abandoned their pursuit and I.S. called 911. He told the dispatcher that four "gangsters" had gotten "out of a car, with blades," and were chasing him, but he "got away from 'em."
Raymundo M. was later arrested and the juvenile court judge sustained the petition (the functional equivalent of a conviction in juvenile court) for assault with a public defender, as well as other charges.
Raymundo then appealed the adjudication (judgement in a juvenile court), contending there was insufficient evidence supporting a true finding of assault because he never was located within striking distance of the victim or made stabbing or slashing motions with the knife.
The Fourth Appellate District Court sustained the trial court's adjudication, citing to an 1865 California Supreme Court case, People v. Yslas (1865) 27 Cal. 630. In Yslas, defendant approached within seven or eight feet of the victim with a raised hatchet, but the victim escaped injury by running to the next room and locking the door. Defendant was then convicted of assault and appealed. The California Supreme Court held:
"It is not indispensable to the commissioner of an assault that the assailant should be at any time within striking distance. If he is advancing with intent to strike the adversary and come sufficiently near to induce a man of ordinary firmness to believe, in view of all the circumstances, that he will instantly receive a blow unless he strike in self-defense or retreat, the assault is complete. In such a case, the attempt has been made coupled with a present ability to commit a violent injury within the meaning of the statute. It cannot be said that the ability to do the act threatened is wanting because the act was in some manner prevented."
Yslas, supra, 27 Cal. at 634.
We present this appellate court summary because this same fact pattern arises quite frequently and we hope that this helps.
The citation for the Fourth Appellate District Court ruling discussed above is People v. Raymundo M. (4th App. Dist., 2020) 52 Cal. App. 5th 78, 265 Cal. Rptr. 3d 720.

For more information about assault, please click on the following articles: