What Is Brandishing a Weapon or Pulling a Gun on Someone?
The charge of brandishing a weapon, a violation of Penal Code § 417, is not alleged too often. So, when it is alleged, folks scramble to Google and call attorneys to get answers. What is the punishment? Is self-defense a defense? What if the other person did not see it or know what it was? What if there was no argument or confrontation involved?
A few definitions help one to understand the charge better. A weapon includes not only a firearm, but any "deadly weapon." A deadly weapon includes a knife, or anything else that can be used to kill another person. This means the object or instrument is "inherently deadly or dangerous" and if used, is capable of causing or likely to cause death or great bodily injury. Great bodily injury is significant or substantial injury (broken bones, concussion, significant bleeding, injuries requiring surgery to repair, etc.).

Brief Synopsis: Brandishing a weapon is when someone shows another person a weapon, i.e. a gun or a knife, in an angry or theatening manner with the intent that the other person experience fear or anxiety. The crime, at Penal Code § 417, is a wobbler.

Deadly weapons do not include fists, teeth or feet or other body parts that can injure another person. However, a deadly weapon can include a rope that can be used to strangle someone, a dog that is trained to attack another person or a hammer than can be used to hit another person in the head or face.
The firearm does not need to be loaded for it to be considered a weapon. The key is that the observer of the weapon experiences fear or defendant intends that the observer experience fear or anxiety. A firearm does not include a BB gun or pellet gun, as the BB or pellet is not propelled by combustion as is true with a firearm.
Brandishing means showing the weapon, or exhibiting it to another person, "in a rude, angry or threatening manner" or using it in a "fight or quarrel." One does not need to point the weapon at the other person. In fact, the other person does not even need to see the weapon for this crime to take place. The prosecution, however, should be able to show that there was some argument or confrontation between the two people involved before the defendant exhibited the firearm or deadly weapon.
Self-defense or the defense of another is the number one and most common defense. Obviously, self-defense only is proper and a valid defense if the self-defense is limited in scope to preventing imminent bodily injury to oneself or another or if used, the weapon is used only as necessary to defend against the danger (not take the offensive).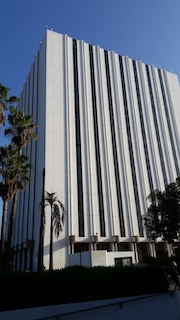 Compton Courthouse
Other defenses are the weapon was not brandished or exhibited in an angry, rude or threatening manner, i.e. you were just joking around. A similar defense is that the complaining party is lying or telling the police a fabrication.
Punishment for violating Penal Code § 417 depends upon if the allegation is charged as a misdemeanor or a felony, which will depend upon the facts of the case (was it by a day care center or to a police officer?) and defendant's prior criminal history.
A misdemeanor violation of this section is a mandatory minimum 30 days of county jail up to a maximum of six months in county jail. Probation is thereafter usually allowed, often with a requirement that the defendant attend and complete anger management classes and maybe perform some community service. There is then usually a criminal protective order in favor of the victim for the period of informal probation. There may also be minimal court fines.
If the weapon was a firearm such as a revolver or pistol and it was capable of being concealed, the minimum punishment is three months in county jail.
A felony violation exposes the defendant up to three years in state prison, to be served in the county jail (assuming his record does not otherwise make AB109 inapplicable). If the brandishing took place at a day-care center for children or around a police officer, there is a three-month minimum county jail sentence. Once out of jail, the person would also most likely be required to attend anger management classes and abide by a criminal protective order while on formal probation, which can be up to five years.
For more information about firearm issues, please click on the following articles:
Contact us.