Is Attempted Burglary of a Vehicle Covered by Prop 47?
Jose Acosta was charged in Los Angeles Superior Court in 2012 with burglary of a vehicle (Penal Code § 459) and grand theft of personal property (Penal Code § 487(a)). The property taken was valued at less than $950. As he had served a prior prison term, a sentencing enhancement under Penal Code § 667.5(b) was also alleged in the complaint against him.
Both Penal Code § 459 and Penal Code § 487(a) are "wobblers," meaning they are offenses subject to punishment as a felony or a misdemeanor.
People v. Park
(2013) 56 Cal.4th 782, 789.
In a Nutshell: Prop 47 does not apply to reduce a felony attempted auto burglary to a misdemeanor, according to the Second Appellate District (which covers Los Angeles County cases), because auto burglary does not necessarily include theft, which is what Prop 47 addresses.

In 2012, Acosta also entered into a plea bargain wherein he plead to felony attempted second degree burglary of a vehicle, Penal Code §§ 664/459.
In November, 2014, California voters passed the Safe Neighborhoods and Schools Act (Proposition 47), reducing the punishment for certain felony offenses related to controlled substances (drugs) (Health and Safety Code §§ 11350, 11357 and 11377) and felony property-related theft offenses (Penal Code § 459.5, 473, 476a, 490.2, 496 and 666) to misdemeanors if the value of the property did not exceed $950.
Within the various Penal Code provisions, certain offenses are defined broadly, opening the door for many felons convicted of theft related offenses to seek reduction of their felony to a misdemeanor. For example, under Penal Code § 490.2 (enacted under Prop 47), obtaining any property by theft is a misdemeanor if the value does not exceed $950.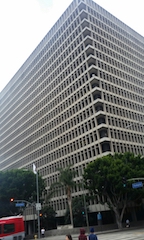 Clara Shortridge Foltz Criminal Courts Building CCB Los Angeles
Relief under Prop 47 can have a great benefit to anyone, as being a convicted felon is a big disadvantage to anyone seeking a better life. Acosta wanted a better life as well and on November 18, 2014, his Los Angeles County Public Defender filed a petition for reduction of the conviction for attempted vehicle burglary from a felony to a misdemeanor.
The petition argued that since Acosta had been convicted of attempted burglary, a theft offense, the offense should be reduced to a misdemeanor under Penal Code § 47. Moreover, Acosta had no prior disqualifying prior conviction and he was not a registered sex offender.
The prosecutor opposed the petition, arguing that attempted burglary of a vehicle is not one of the enumerated offenses under Prop 47.
In response, the public defender argued that there were many theft-related offenses eligible under Penal Code § 490.2 that were not specified under Prop 47. The public defender argued that burglary of a motor vehicle is merely another form of theft and that even theft of a motor vehicle that does not exceed $950 in value is now a misdemeanor under § 490.2. Therefore, attempted burglary of a vehicle is a similar offense.
The public defender also argued that the newly enacted section of Penal Code § 459.5, creating the offense of misdemeanor shoplifting, indicated that Prop 47 applied to burglary offenses.
The trial court denied the petition, explaining that the breaking and entering aspect of attempted burglary made Acosta's conviction distinguishable from those enumerated under Prop 47 because none of those offenses involved breaking and entering, which made the conduct more serious.
Acosta then appealed to the Second Appellate District. However, the Second Appellate District affirmed the trial court. Its reasoning is what is important for the reader of this article who may seek Prop 47 relief for the same or a similar burglary related offense.
The Second Appellate Court first noted that no other reported decision existed related to attempted burglary of a vehicle and Prop 47. Therefore, the court had to interpret the legislative intent of Prop 47 and what elements of auto burglary were relevant.
In looking at auto burglary, the court noted that the crime of burglary can be committed without an actual taking, as opposed to crimes of theft, robbery or carjacking.
People v. Magallanes
(2009) 173 Cal.App.4th 529, 535-536. Therefore, burglary really is not a theft offense, although grand theft or petty theft usually accompanies the burglary.
Likewise, burglary of a vehicle was not analogous to Penal Code § 459.5. In auto burglary, the offense involves entering a locked vehicle, whereas in shoplifting under § 459.5, the individual enters a commercial establishment while it is open during normal business hours.
Therefore, Acosta's attempt to include attempted auto burglary under the provisions as Prop 47 failed.

The citation for the Second Appellate District Court ruling discussed above is People v. Jose Miguel Robles Acosta (2d App. Dist., 2015) 242 Cal.App.4th 521.
For more information about Prop 47's application to contexts outside the strict boundaries of the statute, please click on the following articles:
Contact us.