Is Receiving a Stolen Motorcycle Prop 47 Eligible?
The reader of this article may quickly answer the question posed in the title with a quick no, which would be correct. However, the answer is not quite so easy if one analyzes Penal Code § 490.2, which Proposition 47 added, as the following case summary of
People v. James Rubin Varner
demonstrates.
Why This Article Matters: Receiving a stolen motor vehicle, a violation of Penal Code § 496d, is not eligible for reduction to a misdemeanor under Prop 47, but it is a wobbler. Consequently, a motion to reclassify it from a felony to a misdemeanor under Penal Code § 17(b) may still be filed to reduce the charge. If the stolen motor vehicle is worth less than $950, however, one should seek reduction of the felony under 17(b) and 1170.18 (Prop 47), arguing the stolen item falls under the scope of Penal Code § 490.2.

Defendant James Rubin Varner was charged in San Bernardino Superior Court with one count of receiving a stolen 1986 Yamaha M300 motorcycle, a felony violation of Penal Code § 496d(a), receiving a stolen motor vehicle. He was also charged with having served three prior prison terms within the meaning of Penal Code § 667.5(b).
Mr. Varner later entered into a guilty plea to a violation of Penal Code § 496(d), a felony. He also admitted to serving one prior prison term and was sentenced to three years of formal probation with the first 180 days to be served in county jail.
After being released from jail, he violated probation and was sentenced to 365 days in county jail. While serving this sentence, he filed a petition for resentencing under Proposition 47.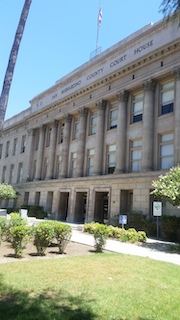 Old San Bernardino Courthouse
As the reader may be aware, Proposition 47 ("Prop 47") was "intended to reduce penalties for certain non-serious and non-violent property and drug offenses from wobblers or felonies to misdemeanors."
T.W. v. Superior Court
(2015) 236 Cal. App. 4th 646, 652. Those crimes were grand theft, shoplifting, receiving stolen property, writing bad checks, check forgery and drug possession. Prop 47 notably amended Penal Code § 496, buying or receiving stolen property, to provide that if the defendant receives "any property" that is $950 or less, the offense shall be a misdemeanor except for some ineligible individuals. Penal Code § 496(a).
The previous version of § 496 gave the prosecution discretion to charge the offense as a misdemeanor if the value of the property was less than $950.
In other words, Prop 47 changed § 496 from a wobbler to a straight misdemeanor.
Proposition 47, however, did not amend Penal Code § 496d at all, the section under which Varner was convicted. It remained a wobbler.
In order to be eligible for resentencing under Prop 47, a petitioning party must show that he would have been guilty of a misdemeanor if Prop 47 had been in affect at the time of his or her offense.
People v. Sherow
(2015) 239 Cal. App. 4th 875, 879-889.
Mr. Varner's petition, written by himself, did not argue that his conviction was eligible for resentencing through the new Penal Code § 490.2, also added by Prop 47. The trial judge quite predictably denied the petition.
On appeal he did not make this argument either. However, the Fourth Appellate District decided to discuss this possibility and entertain an equal protection issue as well, as if to cover for Varner those arguments he could not and did not make.
The appellate court then wrote that because Penal Code § 1170.18, the provision under which one can request resentencing, specifically does not include § 496d, but could have, it was excluded from Prop 47's reach. Likewise, § 490.2 specifically seemed to address other theft crimes by its opening phrase, which states, "Notwithstanding Section 487 or any other provision of law defining grand theft . . ." This seemed to block extending § 490.2 to include § 496d.
The court then considered whether Prop 47 violated Varner's right to equal protection under the laws and found it did not. The court explained that Varner was not similarly situated to those who benefited from Prop 47's provisions because the prosecutor could have charged him with a misdemeanor under § 496(a) prior to the passage of Prop 47, but did not exercise such discretion and proceeded under § 496d.
On this issue, the court further pointed out that the disparate treatment between someone who was charged with a misdemeanor and Varner, who was charged with a felony, was not an equal protection violation. The appellate court rejected this argument, saying that there is no "fundamental interest in a specific term of imprisonment or in the designation as particular crime receives."
People v. Wilkinson
(2004) 33 Cal.4th 821, 838.
The citation for the Fourth Appellate District Court ruling discussed above is People v. James Rubin Varner (4th App. Dist., 2016) 3 Cal.App.5th 360.
For more information about Prop 47, please click on the following articles:
Contact us.