Is Check Fraud Eligible under Prop 47 for Reduction?
The Reader's Digest Version: In the context of reducing a felony to a misdemeanor under Prop 47, felony identity theft and / or felony check fraud can fit the definition of shoplifting under Penal Code § 459.5 and be eligible for reduction to a misdemenaor under Prop 47. It is worth noting that the ruling holding this was from the Second Appellate District, which includes Los Angeles County.

Does shoplifting include someone going into a commercial check-cashing business and cashing a check to oneself from a company that did not authorize the check? In other words, is felony identify theft or check fraud legally considered shoplifting?
This question was posed to a Ventura County Superior Court judge who ruled in People v. Miguel Angel Jimenez (2018 DJDAR 4270) that shoplifting, at least as defined under Prop 47, did include identity theft. In making the ruling, the judge stated "even though this case involves a different charge [than those identified as eligible under Prop 47], it appears to be somewhat of a theft charge."
The People then appealed to the Second Appellate District, whose rulings cover Los Angeles and Ventura counties alike.
Consequently, this article is written because of its applicability to Los Angeles County cases, even though the California Supreme Court in People v. Gonzales (2017) 2 Cal.5th 858 determined that Gonzales' "act of entering a bank to cash a stolen check for less than $950, traditionally regarded as theft by false pretenses . . . now constitutes shoplifting under Penal Code § 459.5."
Section 459.5 was one of several new provisions added to the Penal Code with the passage of Proposition 47 on November 4, 2016. It defined it as "entering a commercial establishment with intent to commit larceny while that establishment is open during regular business hours, where the value of the property that is taken or intended to be taken does not exceed nine hundred fifty dollars ($950)."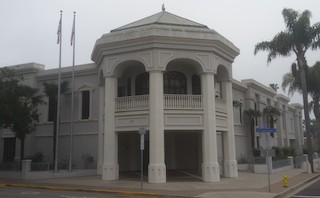 2nd Appellate District Division 6 Ventura
Prop 47 reduced certain theft-related offenses from straight felonies or wobblers to misdemeanors, unless the offenses were committed by certain ineligible offenders. Prop 47 also created a procedure under § 1170.18 wherein an eligible person convicted of certain specified felonies could seek resentencing of the felony to a misdemeanor if the offense would have been a misdemeanor had Prop 47 been in effect at the time of the offense.
The judge is required to resentence or re-designate the felony as a misdemeanor unless the court, in its discretion, determines that resentencing the petitioner or reclassifying the conviction as a misdemeanor would pose an unreasonable risk of danger to public safety. Penal Code § 1170.18(b).
Prop 47 states that its provisions "shall be read broadly to accomplish its purpose." One of the purposes is "to reduce the number of nonviolent offenders in state prison, thereby saving money on offenders considered more serious under the terms of the initiative."
The interplay of all these developments and new provisions allowed Miguel Angel Jimenez to successfully ask a Ventura County judge to reduce his two felony convictions for violating Penal Code § 530.5(a) ("unauthorized use of the personal identifying information of another") to misdemeanors, citing to Gonzales, supra. Jimenez had, on two separate occasions, gone to Loan Plus, a commercial check-cashing business, and cashed checks from Outer Wall, Inc., made payable to himself, without Outer Wall's consent. The checks were for $632.47 and $596.60, so both were under $950.

After the Ventura County judge reclassified the convictions as misdemeanors, citing to Gonzales and People v. Romanowski (2017) 2 Cal.5th 903, the People appealed to the Second Appellate District.
The People argued that identity theft is not the type of theft that Prop 47 intended to cover. The Second Appellate District disagreed, citing to People v. Garrett (2016) 248 Cal.App.4th 82, wherein Garrett entered a store and tried to buy gift cards valued at less than $950 with a stolen credit card. Garrett then pled no contest to commercial burglary as a felony. Garrett later petitioned for resentencing under Prop 47 and the trial court denied the petition. Garrett appealed and the appellate court agreed with him, reversing the trial court. The appellate court characterized Garrett's crime as shoplifting under the new Penal Code § 459.5 set out in Prop 47.
Gonzales was decided shortly thereafter, wherein Gonzales had stolen his mother's checkbook and, on two separate occasions, entered a bank a cashed a check made out to himself for $125. Gonzales, supra, at 862. Gonzales was thereafter arrested, charged and pled to felony second degree burglary. He later petitioned for re-designation of his felony to a misdemeanor under Prop 47. The trial court denied it and the court of appeal reversed in his favor.
Following these two cases, the appellate court in Jimenez affirmed the Ventura County judge.
he citation for the Second Appellate District Court ruling discussed above is People v. Miguel Angel Jimenez (2d App. Dist., 2018) 22 Cal.App.5th 1282.

For more information about Prop 47, please click on the following articles:
Contact us.