How Is Prop 47 Applied to Having Counterfeit Money?
Since Proposition 47 was passed in November 2014, there have been well over one hundred published decisions on how a judge is to determine eligibility for reducing a felony conviction to a misdemeanor based on the $950 limit set forth in the statute.
Many of the decisions center on how the judge is supposed to measure the value of the good stolen or property taken, as it can sometimes be several different values. This article will focus on Prop 47 as applied to having counterfeit money, which is a form of forgery.
What One Should Learn from This Article: Prop 47 can apply to felony forgery when one is found in possession of counterfeit money (Penal Code § 476). The court will reduce the felony to a misdemeanor if the value / denominations of the counterfeit money, if authentic, was under $950. So, as in the case summarized below, if the "value" or denominations of the counterfeit money is $1,130, the conviction is ineligible for Prop 47 relief.
Within the crime of forgery (Penal Code § 473), the most important reported decision on application of Prop 47 is People v. Bloomfield (2017) 13 Cal.App.5th 647. Bloomfield lays out how Prop 47 amended Penal Code § 473 to separate it into two subdivisions. Subdivision (a) preserves the power of the prosecutor and judge to charge and punish forgery as a felony or a misdemeanor. Subdivision (b), however, specifies exceptions to this general provision and identifies seven specific types of forgery that are misdemeanors as long as the value of the forgery does not exceed $950.
These seven forms of forgery are of a check, bond, bank bill, note, cashier's check, traveler's check or money order. It further states that these exceptions do not apply if the person has one or more prior convictions or if the person is also convicted of identity theft under Penal Code § 530.5.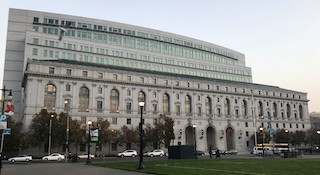 Court of Appeal First Appellate District San Francisco
Three main published cases have dealt with issues of possession of counterfeit currency. Two have addressed whether counterfeit currency is a bank bill for purposes of Prop 47. They are People v. Mutter (2016) 1 Cal.App.5th 429, 434-436 and People v. Maynarich (2016) 248 Cal.App. 4th 77, 80-81. Both said counterfeit money is a bank bill under Prop 47. A third case dealt with whether the counterfeiting materials were counted in deciding value and if so, would these disqualify someone from Prop 47. People v. Rendon (2016) 5 Cal.App.5th 422 said no at pages 424-425.
No reported decision, however, addressed how the $950 benchmark was measured until the case of Beatrice Aguirre at 2018 DJDAR 2487 (March 20, 2018). Ms. Aguirre was stopped at a store while trying to use a counterfeit $100 bill. Police asked her about the bill and she said she was unaware that it was counterfeit. The store, however, alerted police that Aguirre had several more counterfeit $100 bills in her purse.
Police arrested Aguirre with felony forgery (Penal Code § 476). They then searched her purse and found methamphetamine. She was then prosecuted for these offenses. She was on probation at the time, so she also faced a probation violation. It was also alleged that she suffered two prior prison sentences.
Aguirre eventually pled no contest to felony forgery, but did not show up to court for sentencing. While on the run, she picked up two more forgery cases. The judge sentenced her to two years in state prison.
After Proposition 47 was passed, she filed a petition for resentencing, but the trial court denied the petition based on the number of other counterfeit bills ($1,130) found in her purse that, when added up, exceeded $950.
Aguirre appealed the ruling to the First Appellate District, which affirmed the trial court's denial of defendant's petition for resentencing. The court relied upon quite a few cases allowing one charge for the possession of multiple forged checks, i.e. People v. Carter (1977) 75 Cal.App.3d 865, 868, 870, and since $1,130 was greater than $950, the petition was deemed meritless.
The citation for the First Appellate District Court ruling discussed above is People v. Beatrice Aguirre (1st App. Dist., 2018) 21 Cal.App.5th 429.

For more information about Prop 47 and counterfeit items, please click on the following articles:
Contact us.